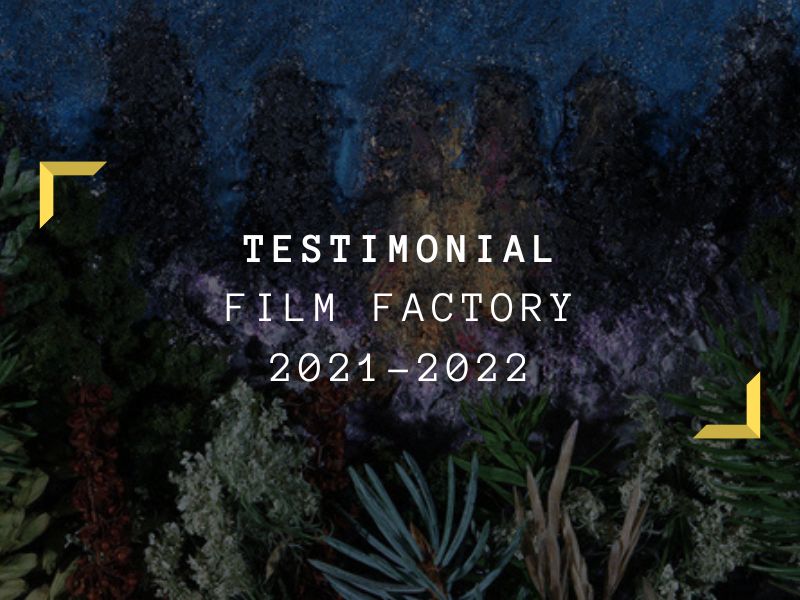 10 Feb

THE FILM FACTORY : A LOOK BACK AT THE EXPERIENCE OF OUR ARTISTS

Main Film has launched its call for applications for its experimental film and animation support program: The Film Factory.

This one-year program offers artists the opportunity to take artistic risks in the development, exploration and experimentation of their practices as an art form.
Artists are provided with a free environment for exploration, equipment and training to enable them to open new creative perspectives.
An opportunity to look back on the experience of 5 artists who have benefited from this program!
---
YEN-CHAO LIN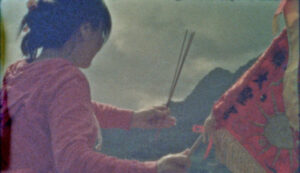 The Spirit Keepers of Makuta'ay
Film Factory 2018
Synopsis
Shot on location in the traditional Amis territory, The Spirit Keepers of Makuta'ay travels through villages on the east coast of Taiwan, where nature, colonization and population migration merge to create a unique spiritual landscape. The hand processed super 8 unravels mixed faith expressions from Daoist ritual possession to Presbyterian funeral, from personal prayers to collective resistance, all the while attempting to trace the memories of past Amis sorcerers.
Testimony
"Film Factory was crucial to the post-production of The Spirit Keepers of Makuta'ay. As someone who was not a prior member of Main Film, the center has received me with open arms and accommodated me every step of the way until the completion of my film. During the 1 year long residency, I have received various valuable support such as different hand processing workshops, access to editing equipment, post production technical support, and distribution network. As a professional artist working in film and visual arts who have attended many residencies, Film Factory is one of the residencies that I enjoyed the most."
Yen-Chao Lin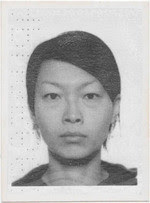 Yen-Chao Lin 林延昭 is a Taipei-born Montreal-based multidisciplinary artist. A self-described postmodern archivist and natural history enthusiast, her work explores divination arts, occult sciences, oral history, religion, power and social permaculture through means of intuitive play, craft techniques, collaboration, scavenging and collecting. Her current research is focused on dowsing, psychic mapping and resource extraction.

---
GUILLAUME VALLÉE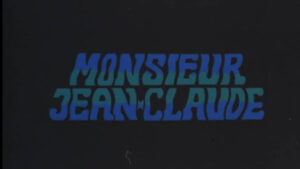 Monsieur Jean-Claude 
Film Factory 2019
Synopsis
Jean-Claude Van Damme is back, and this time it's personal. Seventy-two photograms constructed from a 35mm trailer of JCVD's opus The Quest (1996). Re-examining conceptions of masculinity by deconstructing some of the images I watched repeatedly as a child.
Testimony
"Grâce au programme de La Manufacture de Films, j'ai pu réaliser mon court-métrage Monsieur Jean-Claude, sur pellicule 16mm. Durant 1 an, j'ai eu l'opportunité d'explorer davantage les possibilités créatives de la tireuse optique JK et le développement réversible à la main. J'ai pu prendre le temps de travailler sur mon film, dans les locaux de Main Film, dans un cadre accueillant, ouvert et inspirant. Cette résidence permet une réelle recherche plastique de la pellicule 16mm, en nous offrant le matériel adéquat et les conseils techniques nécessaires. MERCI!"
Guillaume Vallée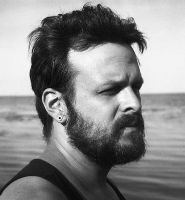 "Thanks to The Film Factory's program, I was able to make my short film Monsieur Jean-Claude, on 16mm film. During one year, I had the opportunity to explore the creative possibilities of the JK optical printer and the reversible hand processing. I was able to take the time to work on my film, in Main Film's premises, in a welcoming, open and inspiring environment. This residency allows a real plastic research of the 16mm film, by offering us the adequate material and the necessary technical advice. THANK YOU!"
---
SHARLENE BAMBOAT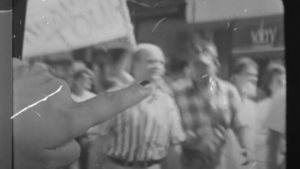 Both, Instrument & Sound
Film Factory 2020
Testimony
"Having an opportunity to do the Film Factory residency allowed me the time and resources to conceive of a new film called Both, Instrument & Sound. Having access to 16mm film equipment, film stock and technical personnel really allowed me to experiment with my process, and made me think about materiality in creative, and novel ways."
Sharlene Bamboat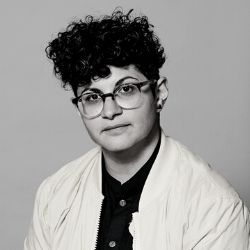 Sharlene Bamboat is a video and installation artist and arts administrator. Her work is anchored in the absurd and mundane retracing of history through queer aesthetics and popular culture. Her works have exhibited internationally, including: the Sharjah Film Platform (U.A.E.), the Berlin Film Festival: Forum Expanded (Germany), London Film Festival (UK), Malmo Queer Film Festival (Sweden) and Vasakh Film Festival (Pakistan). Sharlene frequently works in collaboration, most notably with artist Alexis Mitchell under the name Bambitchell. She is currently the Director of Operations for the Toronto Queer Film Festival.

---
ALISI TELENGUT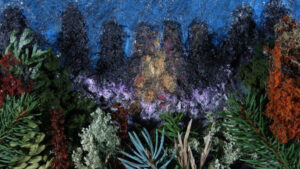 The Fourfold
Film Factory 2018
Synopsis
Based on the ancient animistic beliefs and shamanic rituals in Mongolia and Siberia, an exploration of the indigenous worldview and wisdom. Against the backdrop of the modern existential crisis and the human-induced rapid environmental change, there is a necessity to reclaim the ideas of animism for planetary health and non-human materialities.
Testimony
"I completed my short film The Fourfold with the support from the Film Factory artist residency program at Main Film. It is a short animated film created by hand with painting and mixed materials, such as plants, frame by frame under the camera on a single surface. The process is a time lapse photography of painting with a fixed camera taking pictures of the artwork from above. The under camera animation workflow is always labour intensive and time-consuming, but it demonstrates the presence of its specific materiality. Film Factory offered me a precious opportunity where I could pursue my project with an experimental approach and a space for improvisation. Instead of using an Oxberry camera stand that almost nobody could easily find, an alternative camera stand and lights were set up with the help from Main Film technicians. I worked in the dark room usually used for film processing, which was ideal for the lighting of my film. During the residency, I could arrange a very flexible working schedule while keeping the same setup at the same spot, which is very crucial for the filming process. I'm very grateful that Main Film and its staff has provided an organized, welcoming and secure environment for various film communities and artists in Montreal.
The Fourfold was completed in 2020, and has been shown in numerous film festivals, galleries, and museums, including Sundance Film Festival (USA) and CICA Museum (South Korea). It received an award at Aspen ShortsFest, and was nominated for Best Animated Short Film at the Canadian Screen Awards 2021 and Prix Iris 2021."
Alisi Telengut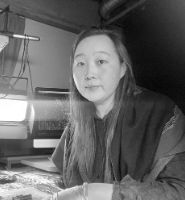 Alisi Telengut is a Canadian artist of Mongolian origin. She creates animation frame by frame under the camera with mixed media to generate movement, and explore hand-made and painterly visuals for her films. Alisi is a Canadian Screen Award nominee and a Québec Cinéma Awards – Prix Iris nominee in Best Animated Film. Her work received multiple international awards and nominations, including the Best Short Film at Stockholm Film Festival (Sweden), Best Animated Film at Mammoth Lakes Film Festival (USA) and the Jury Award at the Aspen Shortsfest (USA). Alisi's work has been screened and exhibited internationally, such as at Sundance (USA), TIFF (Canada), the Academy Museum of Motion Pictures (USA), the Canadian Cultural Centre at the Embassy of Canada in France, CICA Museum – Czong Institute for Contemporary Art (South Korea), Museum Berlin Lichtenberg (Germany), among others.
Her work has not only been presented as animation and moving image artworks with the unique visual style, but have also contributed to ethnographic and ethnocultural research.
---
MOÏA JOBIN-PARÉ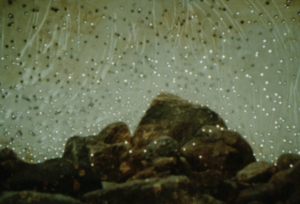 Album de Famille
Film Factory 2020
Synopsis
Creation of an experimental animated short film composed of photographic images recovered and modified by hand.
Testimony
"The photographic image and the direct work with the material being at the heart of my practice, I found at the Film Factory a gold mine of resources that allowed me to work on the realization of my new experimental animated short film and to integrate into my practice techniques that I had never used before: shooting in 16mm, optical printing and scratching on film. Thanks to personalized training, access to equipment, a work space and efficient and friendly coordination, I was able to dive into a creative bubble that allowed me to learn, explore and create, all at my own pace and with great freedom. This residency, which welcomes long-term projects, is an ideal opportunity for me to develop my practice, enrich it and come away with new ideas."
Moïa Jobin-Paré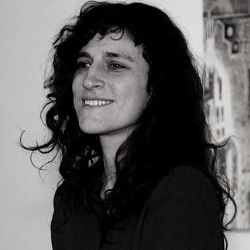 A filmmaker at the crossroads of animation and photography, Moïa Jobin-Paré has been producing since 2015 a multidisciplinary creation dedicated to the current image and its hybrid forms and which brings together her great passions: the moving image, pictorial work, material and digital practices and sound. She has developed a singular and innovative technique of scratching on silver photographs, and uses it in exhibitions and short films. Born in 1978, she grew up in the country and in the city…lives and works in Montreal.