08 Feb

Alternative narrativity in fiction | Online
Alternative narrativity in fiction | Online
Workshop - Fiction - Winter 2022
Tuesday February 8, 2022
6 pm - 9 pm
Tuesday February 8th from 6 p.m. to 9 p.m.
Instructor | Olivier Godin
Members $50 | Non-members $75
---
Fiction films are often presented in a very conventional structure and style; it is up to the filmmaker to let his or her imagination run wild to find new ways to tell the stories that inhabit it. In this theoretical workshop, the participants will discover how to deconstruct the story, and add a touch of realism, through film clips and creative exercises. Discover and integrate new ways of approaching fiction into your projects!
Workshop is given in French but questions may be asked in English.
You are encouraged to write a short note describing your project / your expectations so that the instructor can guide you best before February 1st.
→ To be sent to services@mainfilm.qc.ca
For more information, please send an email to: services@mainfilm.qc.ca
---
Olivier Godin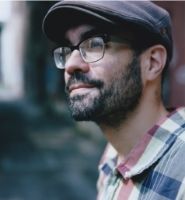 Olivier Godin studied film at Ahuntsic and then at Concordia. Now, he is occasionally awarded prizes and grants. In 2014, a retrospective of his work was presented at the Cinémathèque québécoise. He has directed and written five feature films and numerous short films. Committed to the word and the craft, we find in his films white weapons, a few guns and peacemaking saxophones. In short, adventure! There are also flowers and birds, gallant banter, a sometimes saucy humor and sweetness.