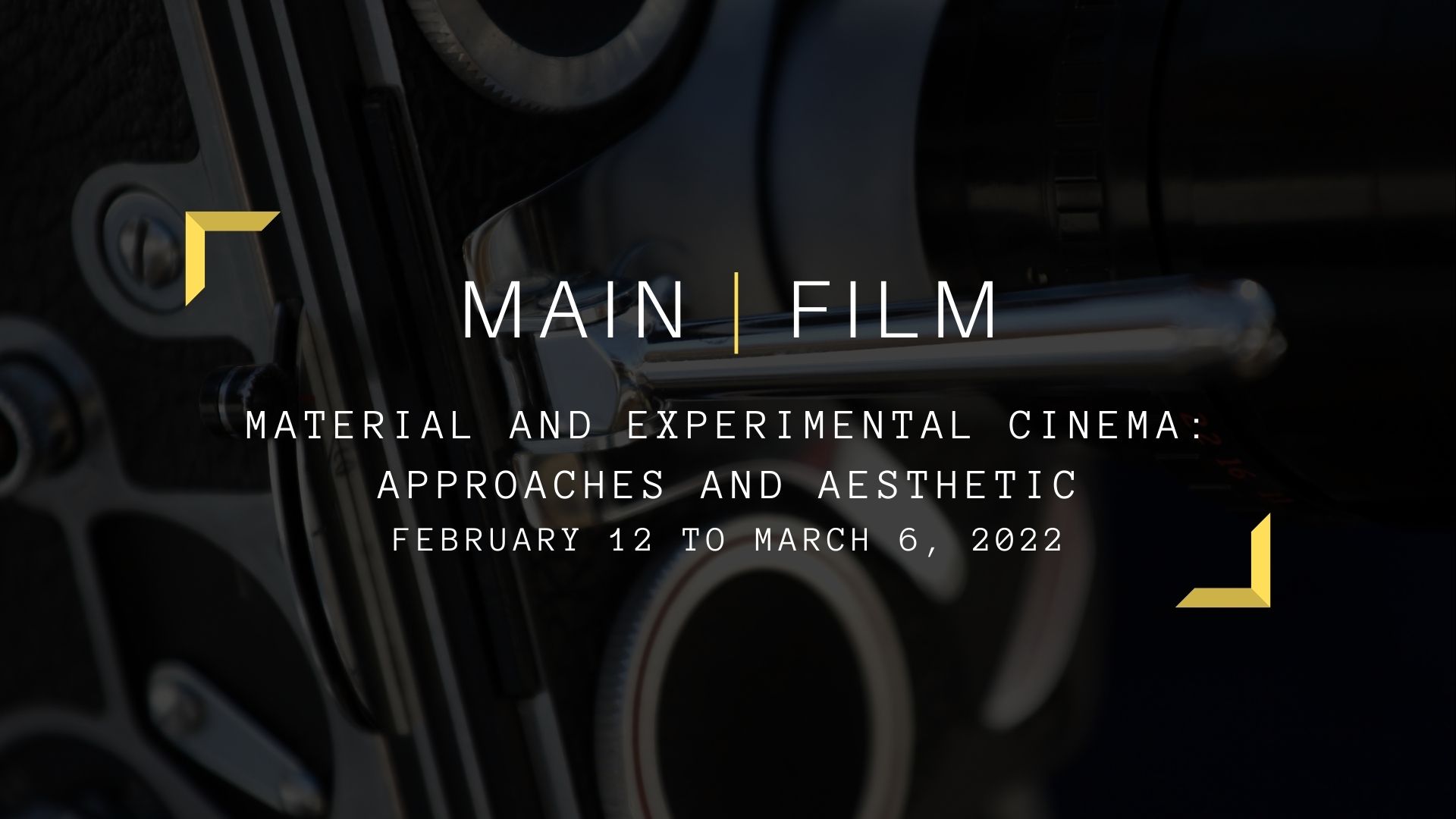 12 Feb

Material and Experimental Cinema: Approaches and Aesthetic | In-person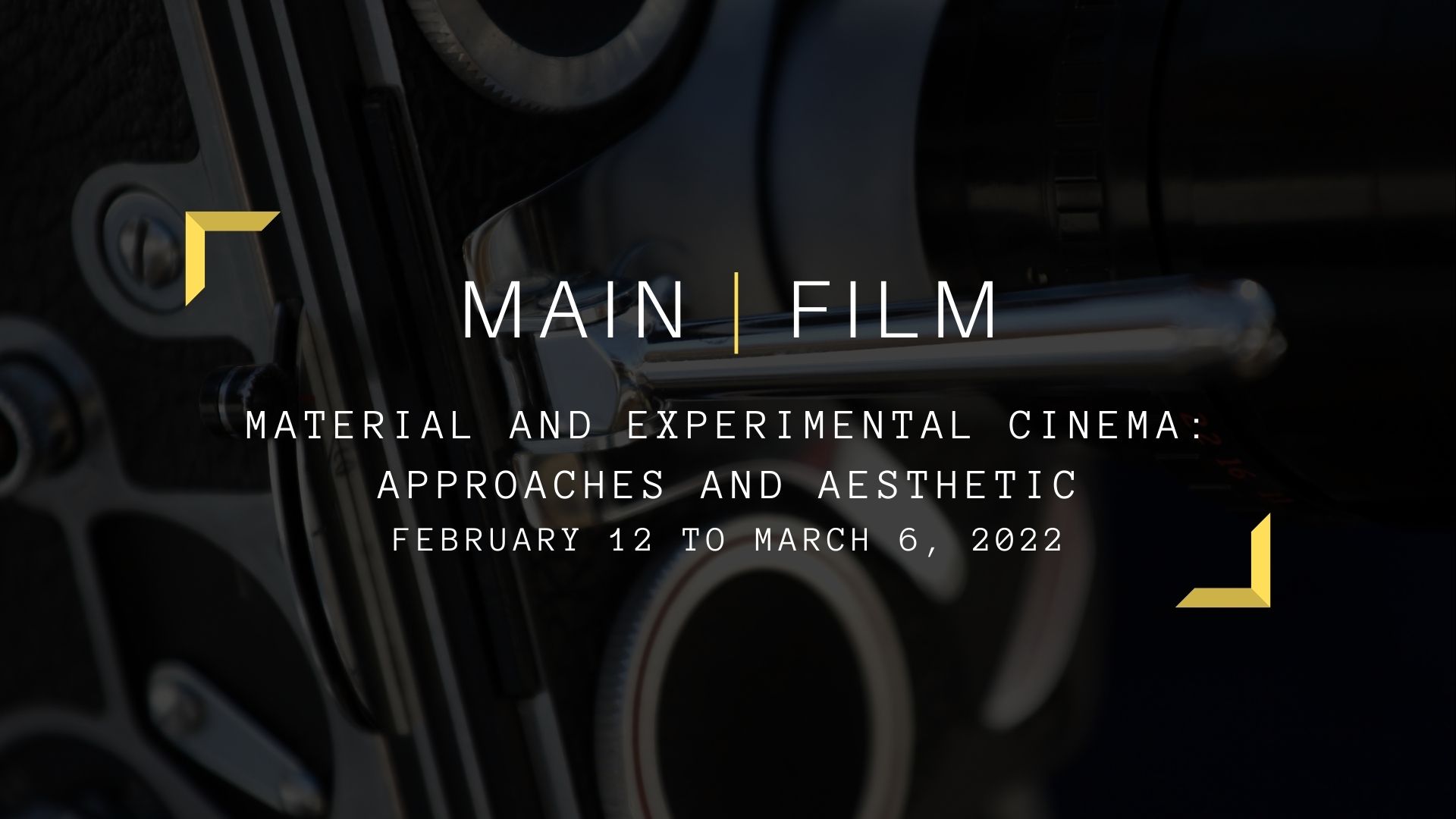 12
Feb
Material and Experimental Cinema: Approaches and Aesthetic | In-person
- Long-term workshop
Saturday February 12, 2022
10 am - 5 pm
Main Film
2025 Rue Parthenais #301, Montréal, Quebec, H2K 3T2, Québec
Registration deadline: December 8th, 2021 at 11:59 pm
Cost to participants: $350 (all materials included)
Total training time: 44 hours (plus 2 hours of mentoring)
Language: English
In person at Main Film's premises
With the financial participation of the Government of Quebec, Main Film, dedicated to independent filmmaking, continues its mission to accompany emerging filmmakers further. This winter, we are offering a comprehensive and affordable professional training course focused on experimental and material cinema. This long workshop, taught by Erin Weisgerber, will allow you to study the various approaches to experimental and analog cinema for the low cost of $350 (including materials). You will explore different techniques to become familiar with the materiality of film: its physical, chemical and photographic properties.
The hands-on workshops will focus on 16mm silent films (with a focus on sound) and will include shooting, hand processing, direct animation, working with developed film, optical printing and projection. In addition to practical exercises, you will learn about the aesthetics and concepts of this genre of filmmaking by watching short films that are representative of the range of possibilities. Also, participants will be given readings that will contextualize these filming techniques and will also discuss the distribution of these types of films with the participation of Denis Vaillancourt from Vidéographe (to be confirmed). At the end of this workshop you will have acquired the skills to present a silent film on 16mm film.
This workshop is in a group of only 8 people, so participants will have access to a personalized and applied follow-up to their project and will be strongly encouraged to interact with the trainers. It will be taught in English and will take place between January 8 and January 30, 2022 (see details in the calendar below). It also includes 2 hours of individual mentoring (during February 2022).
To be selected you must apply by December 8th by sending a letter of motivation and a resume to → services@mainfilm.qc.ca.
Workshop is given in English.
Detailed timetable:
– January 8 from 10am to 4pm (5h): Introduction to experimental and analog film approaches
– January 9 from 10am to 5pm (6h): Introduction to the Bolex camera
– January 15 from 10am to 4pm (5h): Cinematography and filming
– January 16 from 10am to 5pm (6h): Handheld Development
– January 22 from 10am to 4pm (5h): Off-camera animation and film editing
– January 23 from 10am to 5pm (6h): Introduction to the optical printer
– January 29 from 1pm to 5pm (4h): Distribution
– January 30 from 10am to 4pm (5h): Hand Processing #2 + Projection Basics
In February: Private consultation meetings (2 hours per participant)
Please note that due to the sanitary situation, the practical parts of the course must be adapted to comply with the hygienic standards and social distancing measures.
Health measures related to COVID-19:
Participants will be required to wear a procedure mask at all times. No masks will be provided.
Participants will be required to disinfect their hands upon entering the center, hydroalcoholic solution will be provided.
Participants will have their temperature taken via a non-contact thermometer and will sign a symptom-free declaration.
Participants will be distanced during the workshops.
Participants may use the restroom.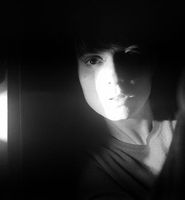 Erin Weisgerber is a Montreal-based filmmaker originally from Edmonton, Alberta.
Photo-chemical filmmaking is at the core of Erin's practice. She produces poetic single-channel films that hover between figuration and abstraction employing techniques such as in-camera manipulations, hand-processing, and re-photography. More recently she has begun working with film-based installation and performance, incorporating her interests in music, sound art, and electronics. She is excited by the idea of artists' cinema as a scavenger art feeding off the refuse of the film industry. She is equally inspired by Montreal's DIY, underground arts movements and the emergence of an international network of artist-run film labs.
Along with creating her own works, Erin contributes to documentary and narrative films as a cinematographer.
Erin is a member of the Double Negative Collective, a group of moving-image artists dedicated to the creation and exhibition of experimental and avant-garde cinema and who maintain an artist-run film lab. Her films have played in Canada, France, Italy, Britain, the United States, Iceland and Lebanon.