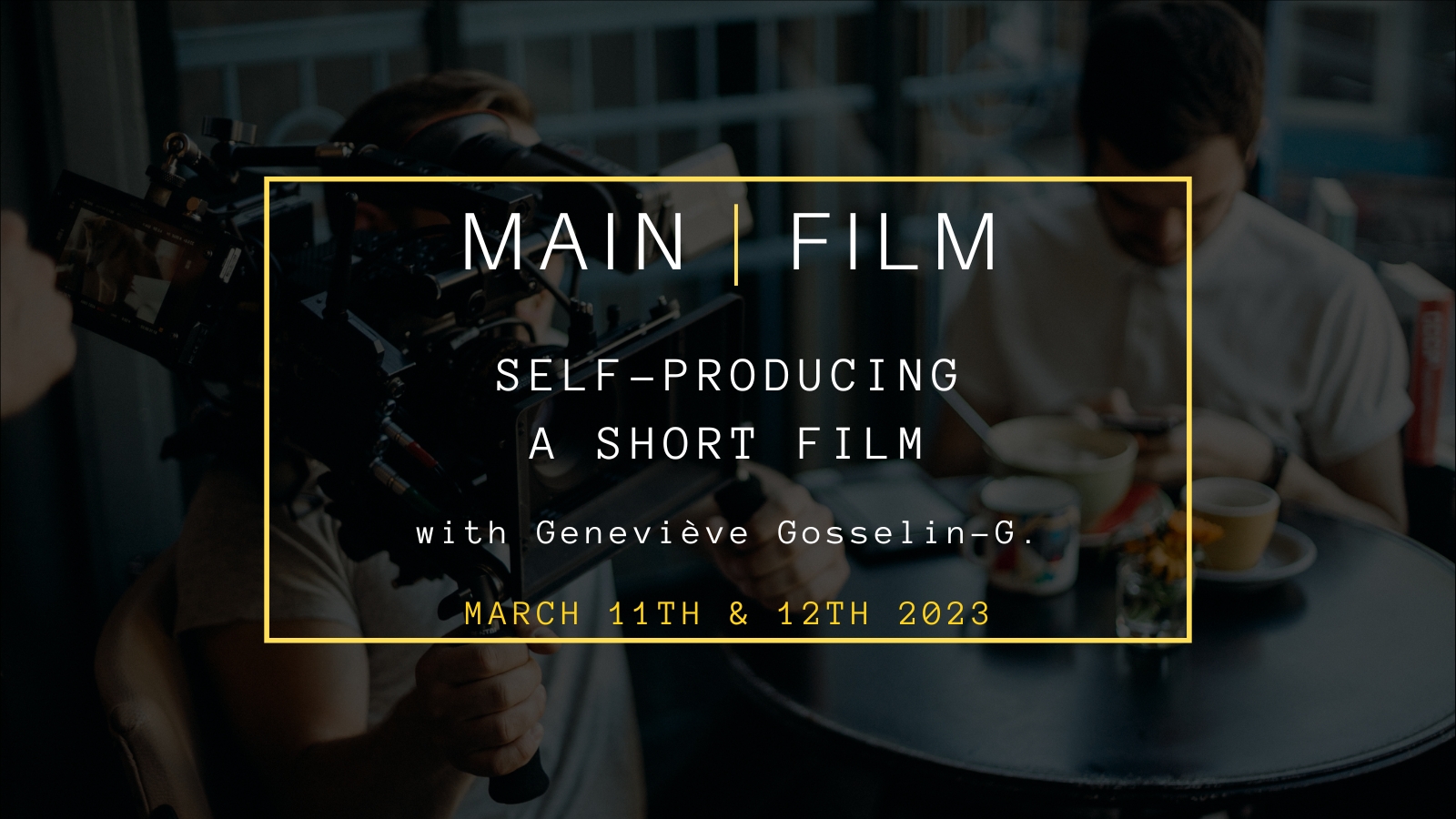 11 Mar

Self-producing a short film | In person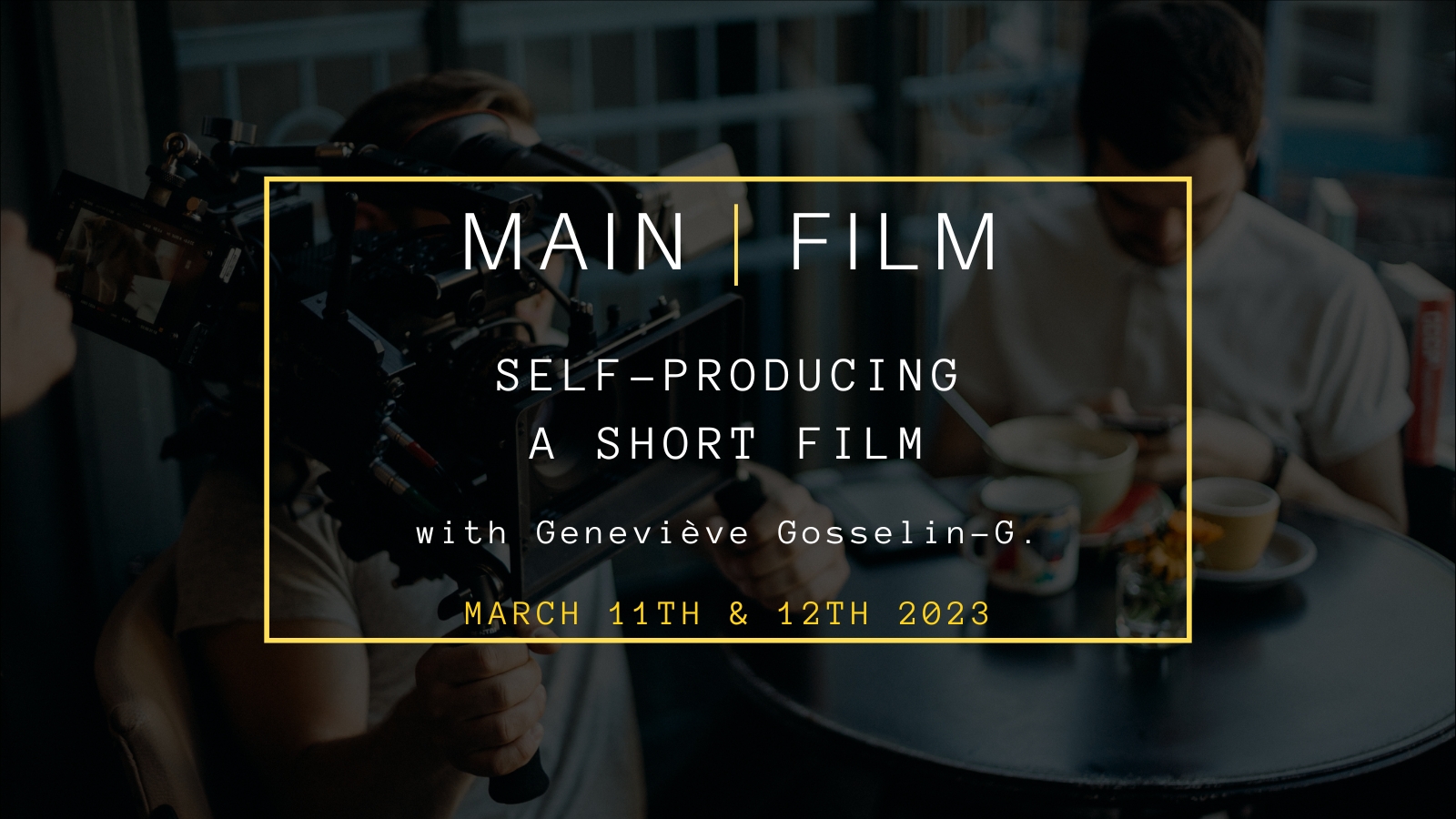 11
Mar
-
12
Mar
Self-producing a short film | In person
Workshop - Fiction - Winter 2023
Saturday March 11, 2023 - Sunday March 12, 2023
10 am - 5 pm
Main Film
2025 Rue Parthenais #301, Montréal, Quebec, H2K 3T2, Québec
Instructor | Geneviève Gosselin-G. (Le Foyer Films)
Member 150$ | Non-member 225$
---
Do you want to produce your film more professionally or are you interested in production? This workshop will provide you with knowledge and skills when creating a short or medium-length film.
In 12 hours, this workshop will address all stages of production: the search for funding; the making of an estimate; pre production; production and post-production. Throughout this class, the goal is to learn how to master the tools as well as the essential elements related to producing. You will be able to self-produce more easily while respecting your artistic vision and limiting risk taking.
Workshop is given in French but questions may be asked in English.
For the purposes of the workshop, your instructor requires you to bring a few things, if they are already in your possession:
– Short film script, scene-to-scene and / or long synopsis (if possible)
– Financial structure, summary budget and / or estimate for this project (if possible)
You should also bring a computer / tablet with Excel software.
For more information, please send an email to: services@mainfilm.qc.ca 
---
Geneviève Gosselin-G.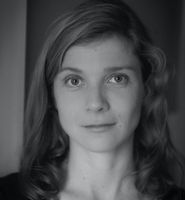 Geneviève Gosselin-G. began her career as a producer with Unité Centrale, where she was the executive producer of Philippe Lesage's Genèse. After its premiere in Locarno, the film won several awards around the world (Los Cabos, FNC, Valladolid, Namur). She has produced several short films, including Vétérane (40+ selections) (2017) and Recrue/Rebel (130+ selections and 30 awards including a qualification for the Oscar race) (2019) by Pier-Philippe Chevigny, Joutel ( 2021) by Alexa-Jeanne Dubé (Busan, FNC), Louise de 9 à 5 by Julien G. Marcotte ( 2021) ( Off-court Trouville, Guanajuato International Film Festival *Jury Mention ) and Virga (2023) by director Jean-François Leblanc ( written by Charles Dionne). She will shoot the short film Les mains sales by Julien G. Marcotte and Jani Bellefleur-Kaltush in the fall of 2022. She is developing Marianne Métivier's first feature film, Une splendeur de vivre ( Tiff Filmmaker Lab 2021, rencontres de coproduction francophones 2021) and has just completed Pier-Philippe Chevigny's feature film Richelieu, developed at the Coproduction Market of the Berlinale in 2019, a co-production with France ( TS Productions, JPL Films).
---
Health measures related to COVID-19:
Wearing a mask is at the discretion of the participants. However, Main Film recommends that you wear it at least when you go inside.
Participants will be required to disinfect themselves upon entering the center and before touching the equipment. A hydroalcoholic solution will be provided.
Participants will be asked to limit their movements.
Participants may use the washrooms