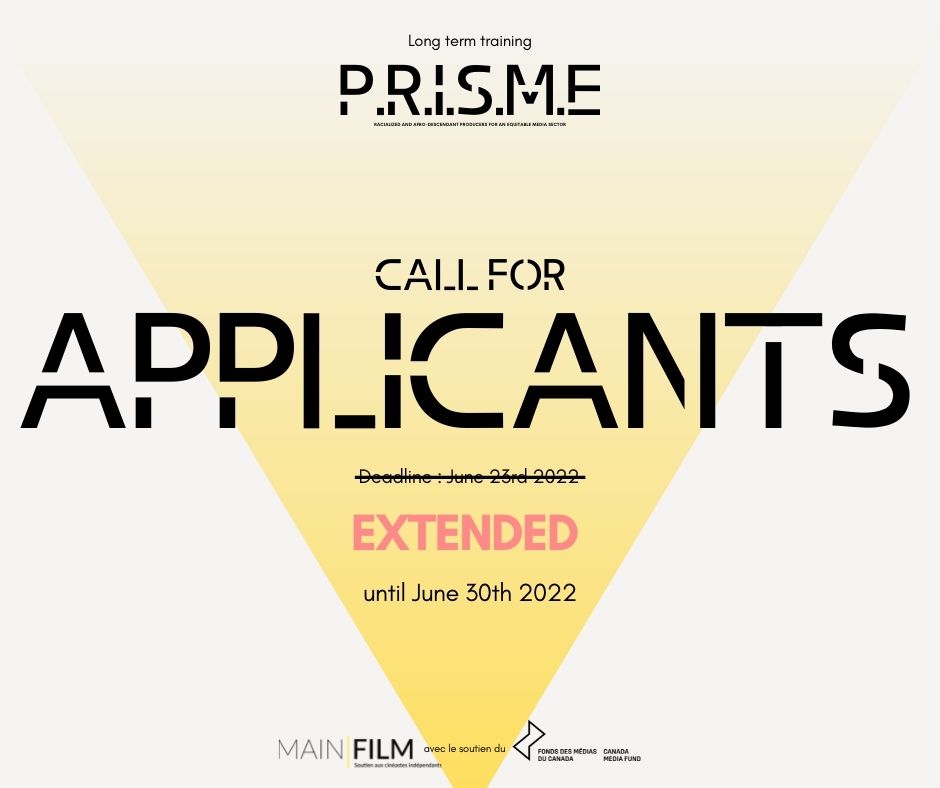 30 Jun

Call for applicants P.R.I.S.M.E II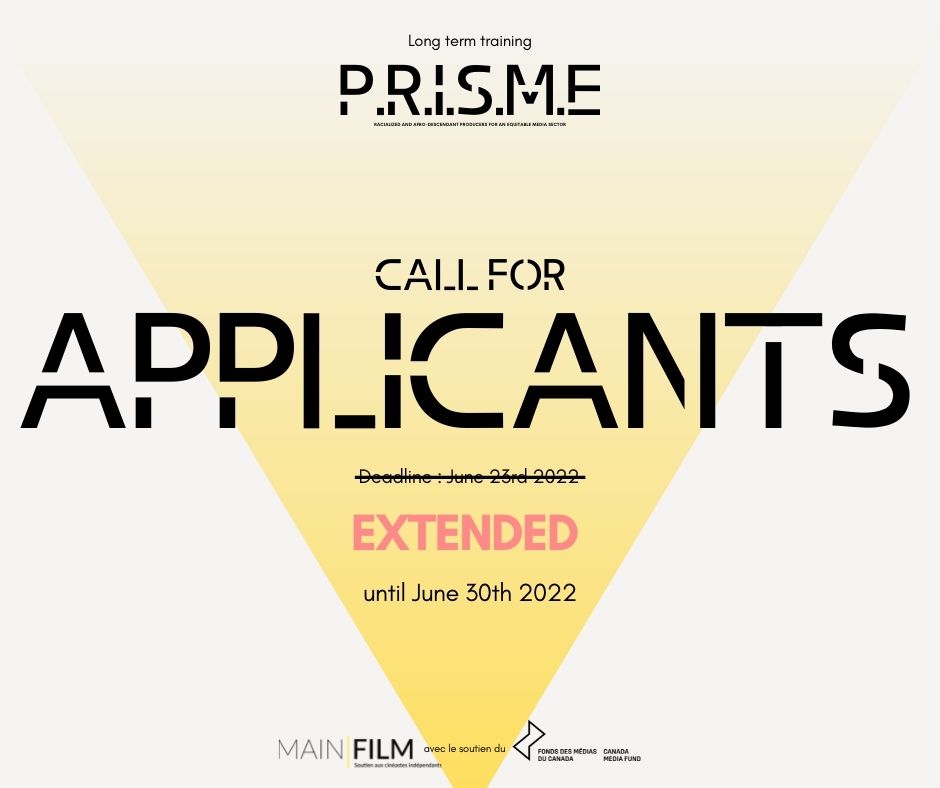 30
Jun
Call for applicants P.R.I.S.M.E II
Prism - Long-term workshop
Thursday June 30, 2022
12 am - 11 pm
Integrated Racialized and Afro-descendant producers for a Fair Trade Media Sector
LONG TERM TRAINING
SUNDAY JULY 10TH 2022 – FRIDAY SEPTEMBER 30TH 2022
Deadline for registration: June 30th, 2022 at 11:59 p.m.
Cost of training for successful participants: $350.00
Total training time: 60 hours (plus networking, networking and mentoring sessions) networking, networking and mentoring sessions)
As part of the Canada Media Fund through its Support for Industry Development Activities initiative, Main Film is offering a comprehensive professional training program focused on the craft of production and the integration of industry networks.
This training will allow you to:
– discover in depth the main strings of the producer's trade, its roles and responsibilities
– understand in a professional way the financing requests, the administrative management (budget, contracts, unions) as well as the institutional and legal obligations inherent to the profession
You will also benefit from :
– a practical application of the theoretical part through 2 days of real case studies and through your own projects
– two days dedicated to reflection on the implementation of your own representation organization based on the needs, realities and problems of your cohort in collaboration with the first cohort.
– integration into the community through networking and pairing activities
– personalized mentoring around your project over a year (limited number of hours per person)
The training is open to 10 people.
It is intended for independent producers at the beginning of their career and for more experienced independent, Afro-descendant or racialized directors.
These individuals must have a production project ready for development to be eligible and it must be a feature-length fiction or documentary film, web series or fiction or documentary series.
It is preferable that candidates be bilingual in French and English so that all the learning of the training can be assimilated and beneficial.
Any other Afro-descendant, racialized or Aboriginal profile deemed relevant will be considered.
To be selected, you must submit your application before June 30th, 2022 at 11:59 pm. It should include :
Cover letter demonstrating what the training will bring to your career
CV
Support material (links to 2 previous works produced or realized, according to your profile)
Project presentation (including a one-page synopsis, why this project, what impact could it have in today's world, what the producer brings to the project that is unique, and if possible the treatment and a script, but this is not mandatory)
Your application must be submitted through the submission form, see below.
PLEASE NOTE: The training will take place in person in Montreal
If you have any questions or need additional information, please contact Nada at prisme@mainfilm.qc.ca
DETAILED SCHEDULE
Classes during the week will be held during the day, below is a tentative schedule.
The final schedule will be published soon. All measures related to COVID-19 will be respected.
JULY
– Tuesday, July 12th: The Producer's Trade (≈4h)
Introduction to the training, introduction to the instructor and cohort members and learning about the roles and responsibilities of producers
– Thursday, July 14th: Funding Institutions – Part I (≈4h)
– Friday, July 15th: Funding Institutions – Part II (≈4h)
Detailed presentation of the various funding institutions and their programs
– Monday, July 18th: Budgets, Contracts, Unions and Professional Associations – Part I (≈4h)
– Thursday, July 21st: Budgets, Contracts, Unions and Professional Associations – Part II (≈3h)
Study of the various budget items and rules for constructing a solid production budget and reporting to the various unions and professional associations
– Tuesday, July 26th: Institutional and legal obligations & distribution (≈4h)
A detailed study of the most important legal and institutional obligations of the producer will be presented as well as an introduction and understanding of the different Quebec distributors.
AUGUST
– Week of August 1st to 5th: Networking residency (≈4x4h)
Training and support in the legal creation of a network
– Weekend in August: Practical residency (≈2x7h)
Case study on applying for funding, producing a feature film and a web series
 – Thursday, August 18th: Concept and philosophy of the pitch: how to present your project well and know what you want to sell (≈4h)
To be a good intermediary between creation and sale so that the project sells as well as possible while respecting and supporting the soul and the ideas of the artist, as an executive producer. 
– Wednesday, August 17th: The Industry & Philosophy of Pitch (≈4h)
Participants will be asked to think about their projects in relation to distributors in the field. Festivals, international sales agents and various film markets, etc.
– Week of August 22 to 26: panels and case studies. (≈3x4h)
SEPTEMBER
– Weekend in September: Practical residency (≈2x7h)
Training and pitch practice
– Networking and networking activities (≈3x6h)
– Long-term personalized mentoring sessions.
---
Sanitary measures to respect
The wearing of masks is at the discretion of the participants. However, Main Film recommends that you wear it at least when you go inside.
Participants will be required to disinfect themselves upon entering the center and before touching the equipment. A hydroalcoholic solution will be provided.
Participants will be asked to limit their movements.
Participants may use the washrooms.
SUBMISSION FORM