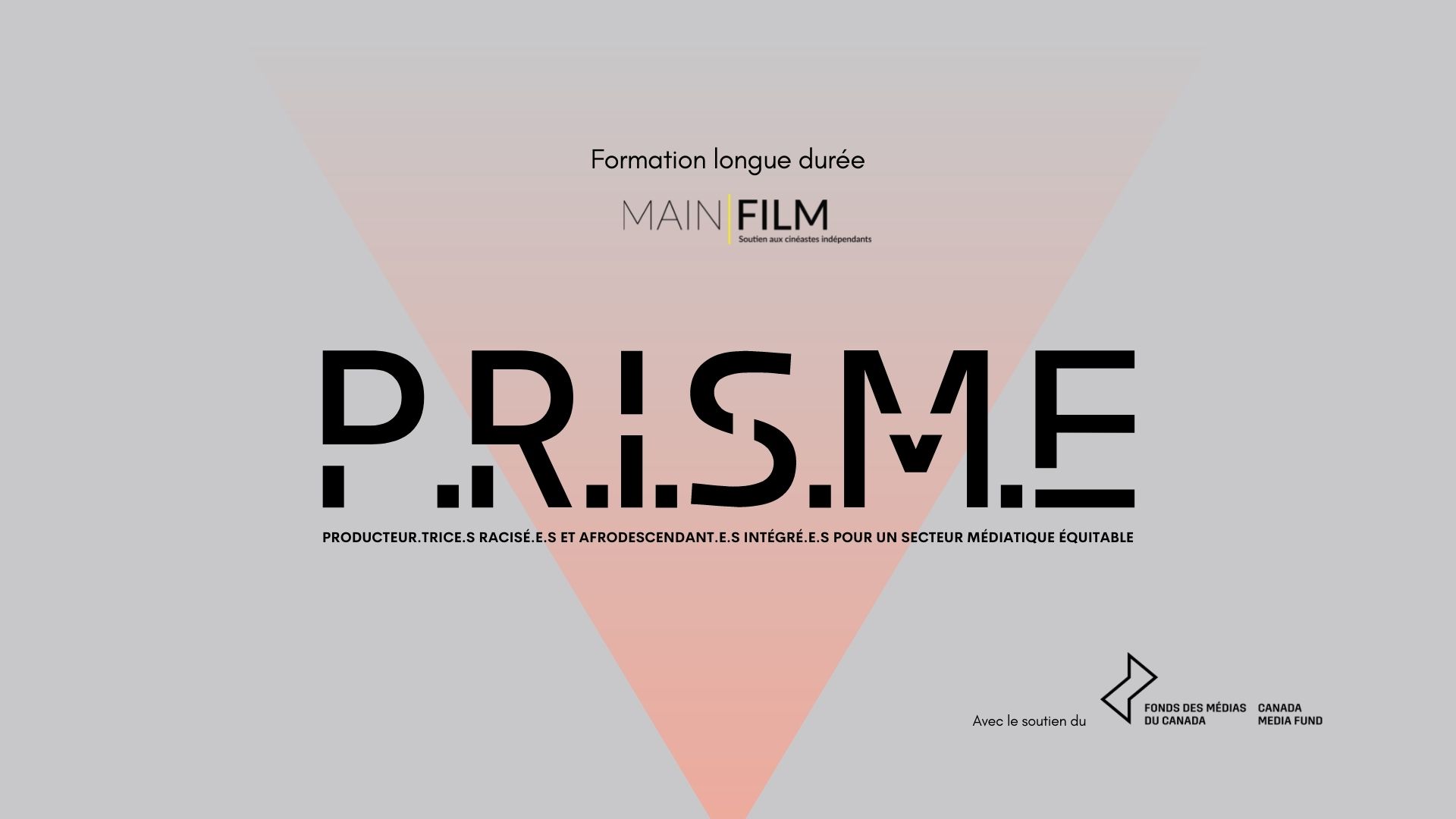 24 Feb

Call to application : P.R.I.S.M.E Program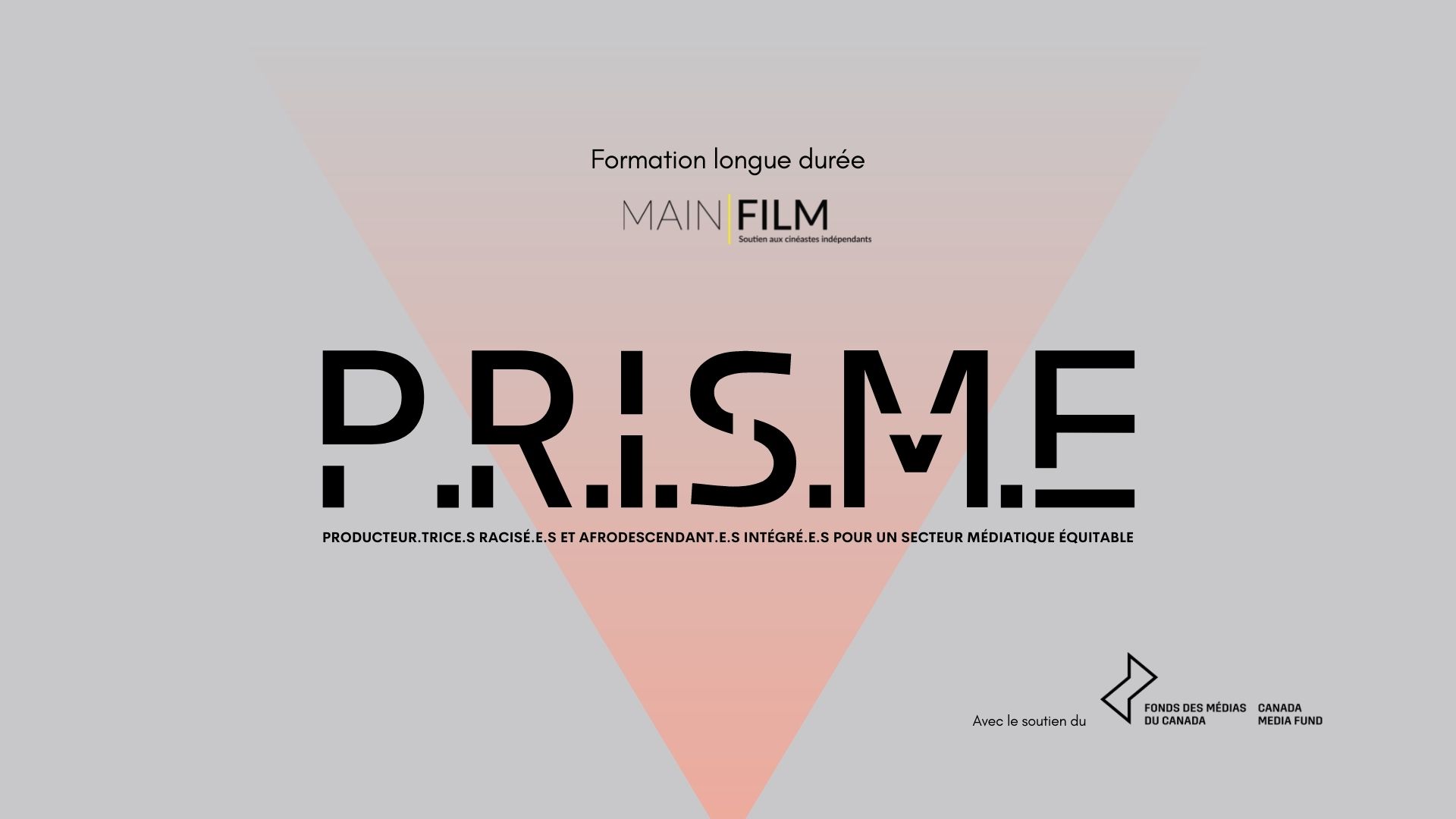 24
Feb
-
19
Mar
Call to application : P.R.I.S.M.E Program
Prism - Long-term workshop
Wednesday February 24, 2021 - Friday March 19, 2021
12 am - 11 pm
Submission deadline: March 19th, 2021 at 11:59 p.m. COMPLETED
Cost of program for selected participants: $300
Total training time: 39 hours (in addition to networking activities, networking and mentoring sessions)
---
Thanks to the support of the Canada Media Fund as part of its Support for Industry Development Activities for Black and Colored People initiative, Main Film offers professional training focused on the production profession and the integration of sector networks.
This training will allow you:
– to discover in depth the main strings of the profession of producer, its roles and responsibilities
– professionally understand funding requests, administrative management (budget, contracts, unions) as well as the inherent institutional and legal obligations
You will also benefit from:
– a practical application of the theoretical component through 2 days of real case studies and through your own projects
– two days dedicated to the reflection surrounding the establishment of your own organization of representation thought around the needs, realities and problems of your cohort
– integration into the community through networking and networking activities
– personalized mentoring around your project over a year (limited number of hours per person)
The training is open to 12 people. It is aimed at independent producers at the start of their careers and more experienced independent directors, afro-descendant or racialized.
These individuals must have a production project ready to be developed to be eligible and which must be a feature film or documentary, a web series or fiction or documentary series, to be eligible.
However, any other Afro-descendant, racialized or indigenous profile deemed relevant will be considered.
It is preferable that the candidates be bilingual French/English so that all the learning of the training can be assimilated and beneficial.
Your file must include :
– your CV,
– a cover letter outlining the benefits of this training on your career,
– support material (link to your previous works)
– your production project file to be developed (ideally including a synopsis, script and film treatment, but this is not mandatory).
Your project must be a feature-length fiction or documentary film, a fiction or documentary web series, or a linear fiction or documentary series.
Your application must be submitted through the submission form.
For any question or additional information, do not hesitate to contact adjsoutien@mainfilm.qc.ca.
Detailed schedule :
Classes during the week will take place during the day.
Schedules will be published shortly and will respect the measures related to COVID-19 in effect (curfew).
April :
Sunday, April 4th: The Producer's Job :
Introduction to the training, introduction of the instructor and cohort members, and learning about the roles and responsibilities of the producers.
Tuesday, April 6th: Funding Institutions – Part I
Wednesday, April 7: Financing Institutions – Part II :
Detailed presentation of the various financing institutions and their programs.
Sunday, April 11th: Budgets, Contracts, Unions and Professional Associations – Part I
Saturday, April 17th: Budgets, Contracts, Unions and Professional Associations – Part II
Study of the different budget items and rules for the construction of a solid production budget and reporting to the different unions and professional associations.
May :
Tuesday, May 11th : Institutional and legal obligations :
Detailed review of contracts, insurance including error and omission, roles of lawyers and reports to institutions
Weekend in May: Practical Residence :
Case study on the application for funding, the production of a feature film and a web series. Pitch training and coaching.
Weekend in May: Network Residence :
Training and support in the legal creation of a network. Networking and pairing activities.
June :
Long-term one-on-one mentoring sessions.
PLEASE NOTE: The training will take place face to face.
Health measures related to COVID-19 will be strictly observed throughout the duration of the training:
Participants must wear a mask during all their travels upon arrival at the training location. No mask will be provided.
Once installed in their seat, participants can remove their mask.
Participants must disinfect themselves at the entrance to the premises, a hydroalcoholic solution will be provided.
Participants will follow the arrows marked to reach their room and thus limit movement.
Participants will be 2m apart during the workshops.
Participants can use the toilets.
Anyone with the slightest symptom should not be present.