03 Mar

Docu-fiction | Online
Docu-fiction | Online
Workshop - Fiction - Winter 2022
Thursday March 3, 2022
6 pm - 9 pm
Thursday March 3rd from 6 p.m. to 9 p.m.
Instructor | Sophie Bédard Marcotte (Winter Claire, L.A. Tea Time)
Members $50 | Non-members $75
---
The making of a documentary-fiction is not marked by precise conventions, so how do you find your way around? What are the challenges during the scripting, shooting and editing stages? This workshop will lead you to ask yourself the right questions in order to embark on the adventure of hybrid film.
Workshop is given in French but questions may be asked in English.
You are encouraged to write a short note describing your project / your experience / your expectations so that the instructor can best guide you before February 24th.
→ To be sent to services@mainfilm.qc.ca
For more information, please send an email to: services@mainfilm.qc.ca
---
Sophie Bédard Marcotte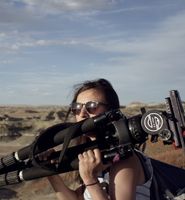 Sophie Bédard Marcotte is a filmmaker based in Montreal. After studying film production at the Mel Hoppenheim School of Cinema, she directed two feature films, Winter Claire and L.A. Tea Time, which were presented in many international festivals including Visions du Réel, IDFA, New York Independent Film Festival and Hot Docs. She is currently filming a documentary with the NFB in which she is interested in rocks and ghosts.