24 Nov

Everything About Documentary Web Series | Online
Everything About Documentary Web Series | Online
Workshop - Documentary Cinema - Fall 2021
Wednesday November 24, 2021
6 pm - 9 pm
Wednesday November 24th from 6 p.m. to 9 p.m.
Instructor | Denys Desjardins (L'industrie de la vieille$$e, 2031.quebec)

Members 50$ | Non-members 75$
---
Documentary web series are multifaceted works whose genre is in constant renewal. During this workshop, we will discuss the particularities of writing a web series, why and how to deploy a subject on a digital platform in a fragmented way. We will explore new narrative fields without neglecting the importance of digital components that enhance the experience of the audience and broadcasters.
We will identify the tools needed to create a documentary webseries by taking a concrete look at the creative steps behind the web series L'industrie de la vieille$$e, directed by Denys Desjardins and broadcast on ICI TOU.TV. The digital component that accompanies the web series, 2031.quebec, won a Gémeaux Award this year. A workshop not to be missed!
The workshop will be given in French but questions may be asked in English.
For more information, please send an email to: services@mainfilm.qc.ca
---
Denys Desjardins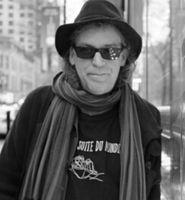 Producer, director, screenwriter and cameraman in the independent milieu and documentary filmmaker at the internationally acclaimed National Film Board of Canada (NFB) since 1992, Denys Desjardins managed to find time for his initial career as a college professor in film theory and production spanning 15 years. Inspired by the likes of Russian film icon Dziga Vertov and Quebec silver screen legend Pierre Perrault, his first theatrical release under his production house Centaure Films, The Doll Lady caught the eyes of the Quebec Critic's Association (AQCC), earning him the AQCC-Telefilm Canada Best Documentary Short in 1996 and landing him a director residency at the NFB. 20 films, 10 awards, and a few decades later, his works in documentary and fiction have made it to the big screen and traveled the international film festival circuit, earning him a reputation as a thought-provoking and militant supporter of Quebec cinema.