15 Feb

All about fiction web series | Online
All about fiction web series | Online
Workshop - Fiction - Winter 2022
Tuesday February 15, 2022
6 pm - 9 pm
Tuesday February 15th from 6 p.m. to 9 p.m.
Instructor | Florence Lafond (Je voudrais qu'on m'efface)
Members $50 | Non-members $75
---
The fictional web series is a genre that filmmakers and audiences are increasingly turning to. At the crossroads between a short film and a linear series, how is the creation of a web series established? In this workshop, you will learn the differences between a linear and a fragmented work, the various styles and structures of web series and the basics of writing this genre of fiction. The course will be based on Florence Lafond and Éric Piccoli's scripts (Je voudrais qu'on m'efface) in order to learn about examples of produced and broadcast works.
Workshop is given in French but questions may be asked in English.
You are encouraged to write a short note describing your project / your expectations so that the instructor can guide you best before February 8th.
→ To be sent to services@mainfilm.qc.ca
For more information, please send an email to: services@mainfilm.qc.ca
---
Florence Lafond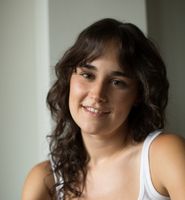 Florence Lafond is a screenwriter and director. Gradueted from the University of Quebec in Montreal in cinema, she co-wrote with Éric Piccoli the short series Wipe Me Away, an adaptation of the novel written by Anaïs Barbeau-Lavalette nominated at the CanneSeries Festival. Florence was also finalist at the Cours écrire ton court competition (2020) organized by the SODEC, for her screenplay Until You Die, which also won a production grant at the CALQ. While preparing to shoot her next shortfilm, Florence is also currently writing several other series to come. Having worked for a long time in the community sector, she is particularly interested in a cinema that dares to address the class divisions and inequalities of our time.