23 Mar

Working with non-professional actors | Online
Working with non-professional actors | Online
Workshop - Fiction - Winter 2022
Wednesday March 23, 2022
6 pm - 9 pm
Wednesday March 23rd from 6 p.m. to 9 p.m.
Instructor | Pascal Plante (Les Faux Tatouages, Nadia Butterfly)
Members $50 | Non-members $75
---
As Audiard in his film Dheepan many filmmakers choose to work with non-professional actors, thereby reviving an old tradition of the 7th art. Some directors even make it their registered trademark. Quest for realism, love at first sight or budget constraints, there are many reasons why choosing to work with neophytes. This workshop will teach you to get the best out of this experience, both for your film and team.
Workshop is given in French but questions may be asked in English.
You are encouraged to write a short note describing your project / your experience / your expectations so that the instructor can guide you best before March 16th
→ To be sent at services@mainfilm.qc.ca

For more information, please send an email to: services@mainfilm.qc.ca
---
Pascal Plante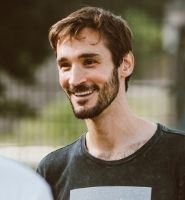 A 2011 graduate of Concordia University in Montreal, Pascal Plante has written and directed numerous short films, including "Blonde aux yeux bleus" (Best Canadian Short Film, VIFF 2015), "Nonna" (Slamdance 2017) and "BLAST BEAT" (Slamdance 2019). The man who describes himself as a cinephile turned fiction filmmaker with documentary tendencies has also signed "The Fake Tattoos", his first fiction feature film, winner of the Grand Prix Focus Québec/Canada at the FNC 2017 and selected at the Berlinale 2018. Labelled Cannes 2020, "Nadia, Butterfly" is his second feature film.