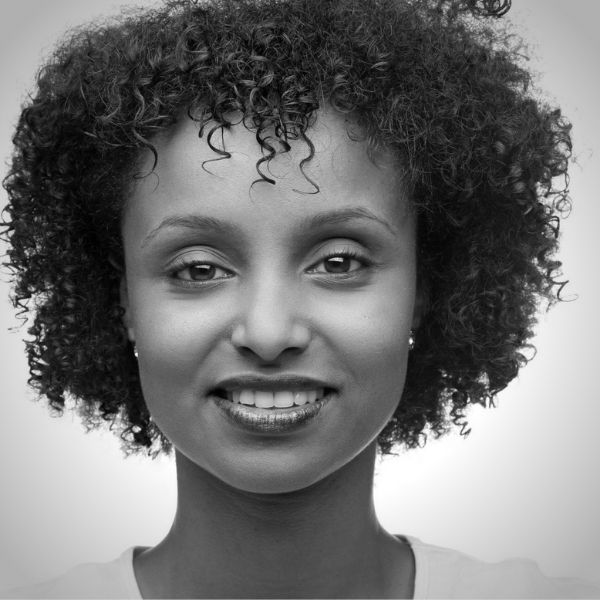 10 Dec

Feven Ghebremariam

Born in Saudi Arabia to Eritrean parents, Feven Ghebremariam immigrated to Montreal in 1988. Her interest in the arts and media led her to pursue studies in communications at the University of Windsor, where she was first exposed to documentary filmmaking and her passion for storytelling. In 2012, she directed Coming Home to Boon, a Super 8mm documentary portrait screened at the Festival du Nouveau Cinéma in 2013, which featured the coffee ritual of an Eritrean woman as she copes with the feeling of displacement. That same year, Feven enrolled in an intensive six-month documentary filmmaking program at the Institut National de l'Image et du Son. This led her to direct and co-direct several short films, including Camfranglais, an award-winning afro-futurist documentary which was part of Cinema Politica's Next 150 series. Currently, Feven is developing her first feature-length documentary, Diaspora Dreams.
Coming home to boon, short documentary, 2012 (Festival Nouveau Cinéma).
The other side of her path, short documentary, 2013 (RVCQ).
Jeune ailleurs, vieilles ici, short documentary, 2015 .
Camfranglais, short documentary, 2018 (Best short film – Afro-Prairie film festival 2019, Best directors Gala Dynasite 2019, Cinema Politica Audience choice award, 2020).
---
#MAINARTIST
Main Film is an artist center in independent cinematographic creation committed to support its community as whole, without any distinction.
Our strength is in our members. They are our essence.
Following the recent events, it seemed essential to offer a place so our members can express their feelings towards the discrimination they experience regarding their skin color, their origins, their sexual orientation, their gender, and share their reflections through this societal drama that takes place in all forms of rejection of one another.
Every month, Main Film will give place to its members that face discrimination so they can share with you their reflexions and thoughts.
Our ninth artist to contribute is Feven Ghebremariam.
#MainArtist #ArtistImportant
Because it's the artists who carry both the role of representing society and making it evolve.
---
❝  Arriving in Montreal at the age of 7 in the 80's, as a Saudi born, Eritrean, immigrant, I had no specific references that I could identify with other than my own community.
As I grew up, I found myself justifying, and sometimes even debating with people the validity of my identity, because in their eyes, I had to fit into a preconceived idea of blackness. Otherwise, it became too complicated or led to awkward comparisons/micro-aggressions rooted in the colonial view of what blackness is and should be.
Several years ago, I received feedback after a grant refusal which I found disturbing. The comments insinuated that a Quebec audience would not be interested in a story about the impact of Eritrean militant music on the liberation of its people. While I am receptive to constructive criticism, such comments are particularly dangerous because they suggest that there is only one type of Quebec audience; a homogeneous one. This type of thinking feeds into  systemic barriers that prevent proper representation in the Quebec film and television landscape.
After seeing the images of George Floyd's murder and attending the first protest in Montreal, I saw nothing homogenous in the crowd except the call for justice and an end to systemic racism.
Although there is a new awakening after this year's disastrous events and an openness from institutions, reforms are needed to make real room for the plurality of voices and experiences that exist across Quebec.
Today, I am grateful to see the emergence of black creators who are willing to break the mold and live their truth through their projects. I am inspired to continue developing my own visual language and to foster my unique perspective. I strive to build bridges through my films for all audiences.  ❞
Feven