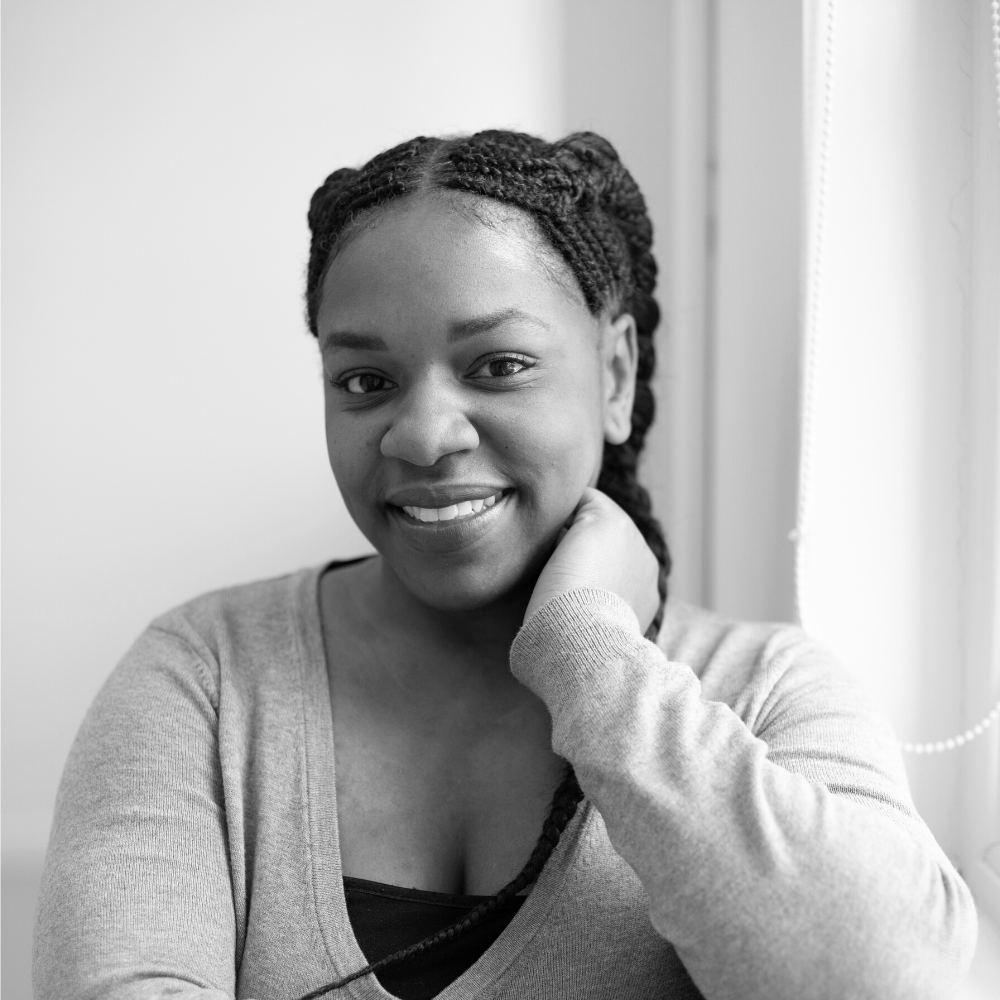 23 Jul

Sandra Mathieu

After completing her studies in television production and scriptwriting Sandra J. Mathieu wrote and directed her first documentary short film about her journey to Haiti, following the 2010 earthquake. Then she directed and scripted a fictional short film inspired by a true story Je t'aime à mort in 2014. More recently, she created the Reine web series which deals with the current issues faced by black women. In 2019, she received a Netflix scholarship to continue her studies in scriptwriting at the Institut National de l'Image et du Son. During her stay at INIS, she scripted the Bonne figure web series, which received a warm welcome in festivals. She is currently writing several projects including a web series and her first fiction feature film. With her art Sandra tries to reclaim the narrative and break stereotypes. She is working in the community as a director, screenwriter and editor.
27$, feature film (scriptwriting), in development, 2021.
Une rencontre fortuite, short fiction film (scriptwriting, directing) pre-production, 2020.
Bonne figure, webseries (scriptwriting) Inis Production, 2020.
Fissure, documentary short (scriptwriting) Inis Production, 2019.
Reine, webseries (scriptwriting, directing) Havilah Films Production, 2018.
Je t'aime à mort, short fiction film (scriptwriting, directing) Havilah Films Production, 2014.
Ma première fois, documentary short (scriptwriting, directing) Havilah Films, Production, 2010.
---
#MAINARTIST
Main Film is an artist center in independent cinematographic creation committed to support its community as whole, without any distinction.
Our strength is in our members. They are our essence.
Following the recent events, it seemed essential to offer a place so our members can express their feelings towards the discrimination they experience regarding their skin color, their origins, their sexual orientation, their gender, and share their reflections through this societal drama that takes place in all forms of rejection of one another.
Every month, Main Film will give place to its members that face discrimination so they can share with you their reflexions and thoughts.
Our third artist to contribute is Sandra Mathieu.
#MainArtist #ArtistImportant
Because it's the artists who carry both the role of representing society and making it evolve.
---
❝  I can't see the color or make the invisible invisible.
When I started my studies in television a few years ago, I was the only black person in the program. I was the only visible minority, but yet I was not seen. I had to constantly prove that I was competent and that I had my place among the rest of the group.
Today, I am happy to see that the voices are more and more diverse in the community, however, the need to constantly prove our skills and prove that we have our place is still very much present.
People who like to insist that they are not racist often use this phrase: I can't see the color. Although the intentions behind this quote are legitimate, this ideology invalidates the experience of those who experienced discrimination on a daily basis.
To say that you can't see the color is to ignore that there is a problem. It is like saying that we do not see the struggles of others. It's like burying our head in the sand and pretend that all is well. On the contrary, I would like to see diversity and even more, the absence of it in the media, in high decision-making circles, award nominations, etc.
I dream of a world where employers who receive resumes notice the skills of the applicant more than their last name. A world in which Diallo, would rhyme with Tremblay.
We live in times where we all have this fervent desire to exist and it is important to understand that to exist does not mean erase the presence of others but on the contrary reveal it.
More than ever we need to hear and be heard. More than ever we must see ourselves and be seen. And above all, you have to love, love yourself and live with all your might.
As artists and filmmakers we have a duty to try to understand this world we live in and to try to explain it through our art. We have the privilege of using this powerful weapon that is art to make our voices heard and to be seen. The task will not be easy, but it is necessary, if only to bequeath to those who come after us a more inclusive world. ❞
Sandra
Photo credit : Carmen Rachiteanu