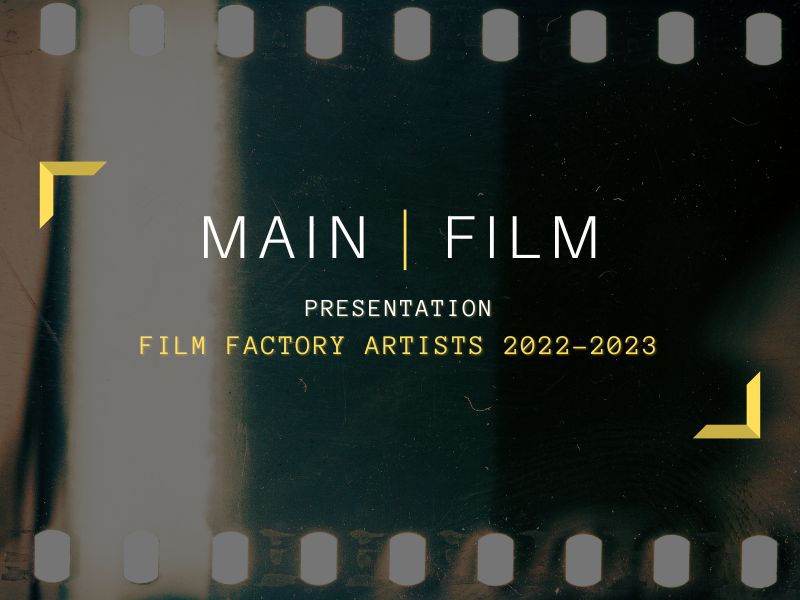 11 Oct

Meet the Film Factory's artists of 2022-2023

This year will definitely be a special year for the Film Factory's creation program because 5 projects have been chosen! An exceptional number of recipients for this research and creation residency in experimental and animation cinema.

Discover the artists of the Manufactures de films 2022-2023 without further delay!
---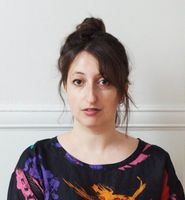 Celia Perrin Sidarous
Celia Perrin Sidarous (1982) is an image-based artist living and working in Montréal. Her works have been featured in numerous solo and collective exhibitions in Canada and abroad : McCord Museum and Centre CLARK (Montréal), Embassy of Canada Prince Takamado Gallery (Tokyo), Norsk Billedhoggerforening (Oslo), CONTACT Photography Festival (Toronto) and FOCUS Photography Festival (Mumbai), 8-11 (Toronto), Arsenal Contemporary (New York), Esker Foundation (Calgary), Dunlop Art Gallery (Regina), Banff Centre (Banff), WWTWO (Montréal), VU (Québec) and Gallery 44 (Toronto). Her work was included in the Biennale de Montréal 2016 – Le Grand Balcon / The Grand Balcony, at the Musée d'art contemporain de Montréal. She was longlisted for the Sobey Art Award in 2019, and is the recipient of the Prix Pierre-Ayot 2017, as well as the Barbara Spohr Memorial Award 2011. Her works are present in public and private collections, most notably at the AGO — Art Gallery of Ontario and the Musée d'art contemporain de Montréal. She is represented by Bradley Ertaskiran, in Montréal.
Projet soumis à la Manufacture de film :
Grouped under the title Vessels for a film, the project consists of the creation of a filmic cycle of 7 short exploratory films, made in 16mm and super8 and constituting a set of mobile pieces. The Vessels cycle examines the artist's family history of immigration, spatio-temporal distances and displacement. The cycle employs a methodology of archaeological excavation expressed through the historical genre of the still life, the close observation of various subjects, objects and personal archival documents, as well as the performative gesture around specific objects. Vessels proposes to investigate the porosity of generations towards each other, the cyclical nature of influences and the non-linearity (suspected, assumed, speculated) of family histories – through an oblique and curious gaze, interested in the off-screen, the unspoken and all that lies on the margins of official histories. These stories – family, personal – are set in a specific historical and political context, which underlies the research. Vessels is a fragmentary film of gestures and observations, transparencies and translucencies, juxtapositions, which evokes other lives and other spaces, with the richness and complexity of a mixed cultural heritage as its sub-theme.
---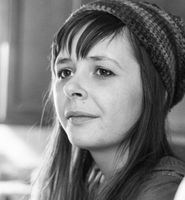 Marie-Noëlle Moreau Robidas
In 2016, Marie-Noëlle Moreau Robidas graduates from Concordia University with an animation cinema degree. Quid (2015), her student animation short film, is being presented in multiple festivals across Quebec and Canada. Her first professional film, Triangle noir (2022) won the Audience Award at the Montreal Animation Film Summits 2022.  Born in 1989, she lives and works in Montreal.

Projet soumis à la Manufacture de film :
Halfway between a video-poem and a documentary, the Meteorological Carnets are a series of short capsules that aim to reflect aloud on our relationship with the climate, to apprehend its vocabulary through the senses and to explore its narrative.
---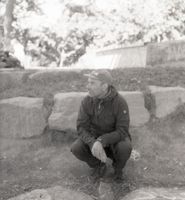 Pablo Alvarez Mesa
Pablo Álvarez Mesa is a filmmaker and cinematographer working mainly in documentary. His films have played at international film festivals including Berlinale, IFFR, Venice, Visions du Reel, and Anthology Film Archives. His interest in documentary lies in the relationship between fact and fiction; between what is recalled and what is inevitably constructed. His films all touch in one way or another issues of displacement, history and collective memory. Pablo has served on Juries for The Canadian Screen Awards, Canada Council for the Arts and RIDM, and is a programmer for MidBo (Bogota International Documentary Film Festival) and is an Associate Programmer at Camden International Film Festival. He is an affiliate member of the Centre for Oral History and Digital Storytelling at Concordia University, an alumnus of Berlinale Talents, Banff Centre for the Arts, Canadian Film Centre and is Artist in Residence at Fogo Island Arts (2022-23).
Projet soumis à la Manufacture de film :

In the Soldier's Lagoon, we go deep into the foggy Páramo where we find an ecosystem rich in not only water but also saturated with oral narratives that seem to populate the territory like misty patches. Reflecting on the construction of history and its relation to the land we dive into the Páramo as if it was a living and elusive archive, navigating through the dense fog suspended between Simon Bolivar's past and Colombia's present.
"At the Manufacture de film I will work with the optical printer for sections of the "The Soldier's Lagoon", the second in a three-part series of medium-length films exploring the intersection of oral narratives and the territories marked by Simón Bolívar's passage during his Liberation Campaign of Colombia in 1819. The first completed film in the series is Bicentenario which premiered at Berlinale (2021)."
---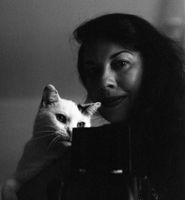 Sarah Seené
Sarah Seené is a photographer and filmmaker based in Montréal (Quebec, Canada) who works with 35mm film, Super 8 and Polaroid. Born in the East of France in 1987, she obtained a Bachelor's degree in Lettres et Littératures Modernes at the Faculté de Sciences du langage de Besançon and a Master's degree in Recherches cinématographiques at the Faculté de Lettres et Langues de Poitiers. Her thesis was on the concept of idiocy in the Golden Heart Trilogy by filmmaker Lars Von Trier.
Website: https://www.sarahseene.com/
Projet soumis à la Manufacture de film :
Orbites is an experimental short documentary film of about 8 minutes duration that weaves together the portrait of Marie-Christine and her son Liam, both visually impaired. The title of the film echoes the physiological term ocular but also to the space mechanics. It illustrates the dark visual galaxy studded with luminous spots in which the two protagonists evolve together. The entire film is shot in black and white Super-8, notably for the sequences of everyday life but also for the photographic portraits and the material for post-production. In parallel to the shootings, it is the darkroom and the optical printer of Main Film that are the object of my work in residence. The goal is to explore the different possibilities of visual effects possible with the optical printer, mainly blow-up on 16mm and bipack.
---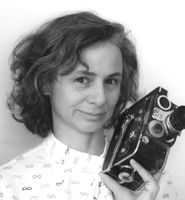 Sonya Stefan
Sonya Stefan is a Canadian media & dance artist whose practice includes glitchy analog (16mm|VHS), feed-backing light refractions and dance film. She won the 2021 Best National Medium-Length Film at the (RIDM) Montreal International Documentary Festival for The Truss Arch. Her recent collaborations are with multimedia dance company Animals of Distinction, Berlin's experimental music act Group A (Tommi Tokyo and Sayaka Botanic) and Toronto's Newton Moraes Dance Theater. She will premiere a new work in February 2022 with sound artist Lain-9 during a month-long Touch Designer residency with Argentina's ArtlabPro.
Website: https://sonyastefan.com/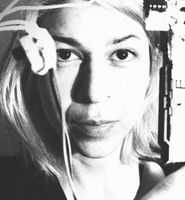 Stéphanie Castonguay
Fueled by D.I.Y. culture, self-taught Stephanie Castonguay has become a master of her craft by fine tuning her instruments, inviting us into her audiovisual universe. Her approach to sound and electronics is playful and organic: she disassembles and repurposes small, obsolete, barely audible machines to reveal the resonance, glitches and random sounds unexpectedly hidden within. Her work has been presented in Montreal and abroad, such as : Instruments Make Play, STEIM, Tsonami Sound Art Festival, Athens Digital Arts Festival, Musica Ex Machina Festival, Sight & Sound, Suoni Per il Popolo, Lux Magna, MUTEK and beyond. She is based and works in Montréal / Tiohtiá:ke and is an active member of the artist center perte de signal.
Website: https://www.stephaniecastonguay.com/
Projet soumis à la Manufacture de film :
Qualia consists in the consciousness that allows us to perceive the world through our senses. Questioning the tactile experience, which can constitute a deep sensory and physical relationship through nature. Combining electronics, sound art, video and body movement, the QUALIA project proposes an exploration of materiality through the use of living and ephemeral organic matter, where the integration of bioplastic, bacteria and mycelium culture are explored as a medium of creation. The work relates the two artists' common quest to convey an awareness of the senses and create an evocative experience of an entangled relationship with nature.