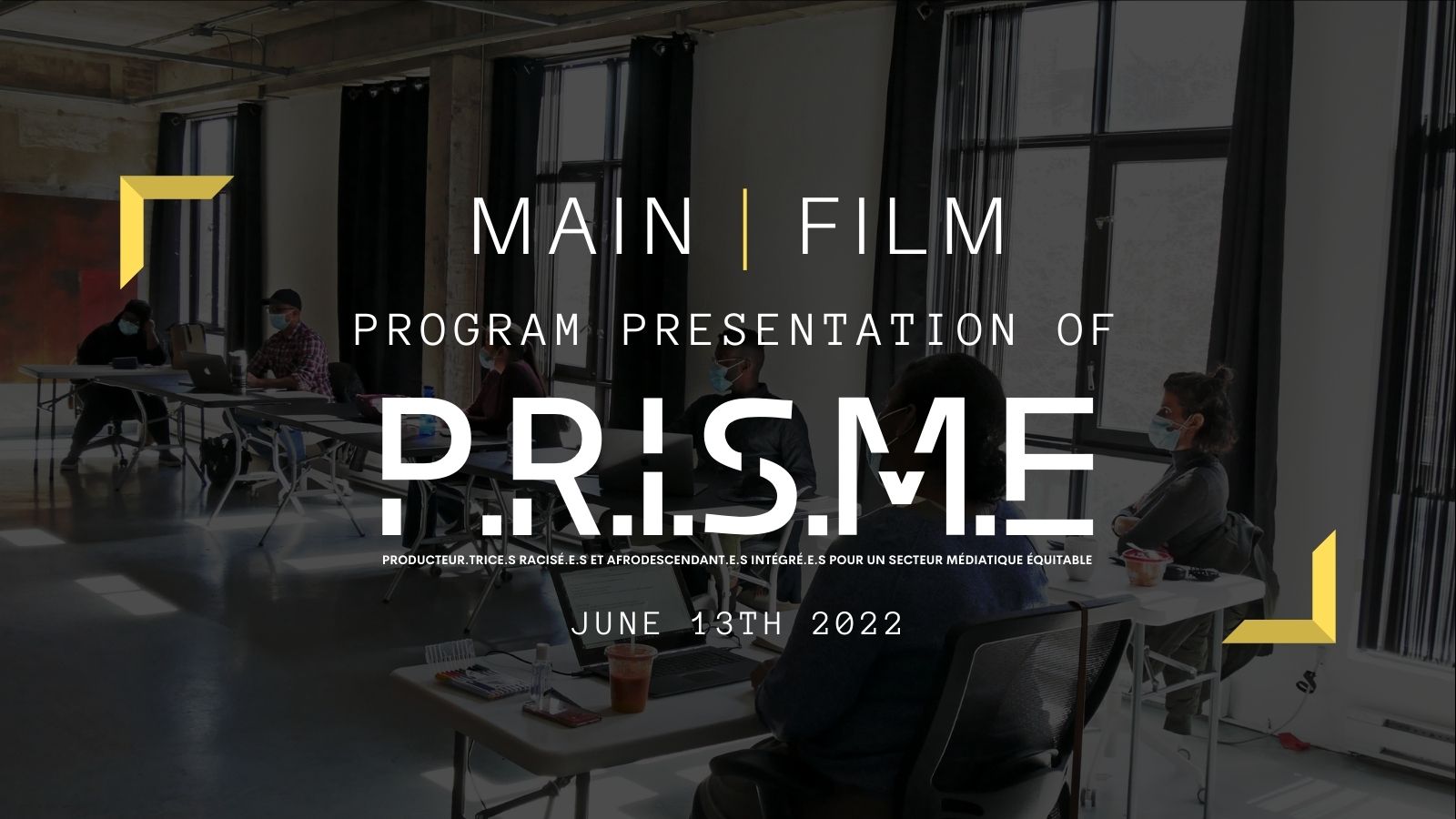 13 Jun

P.R.I.S.M.E Program Presentation | Online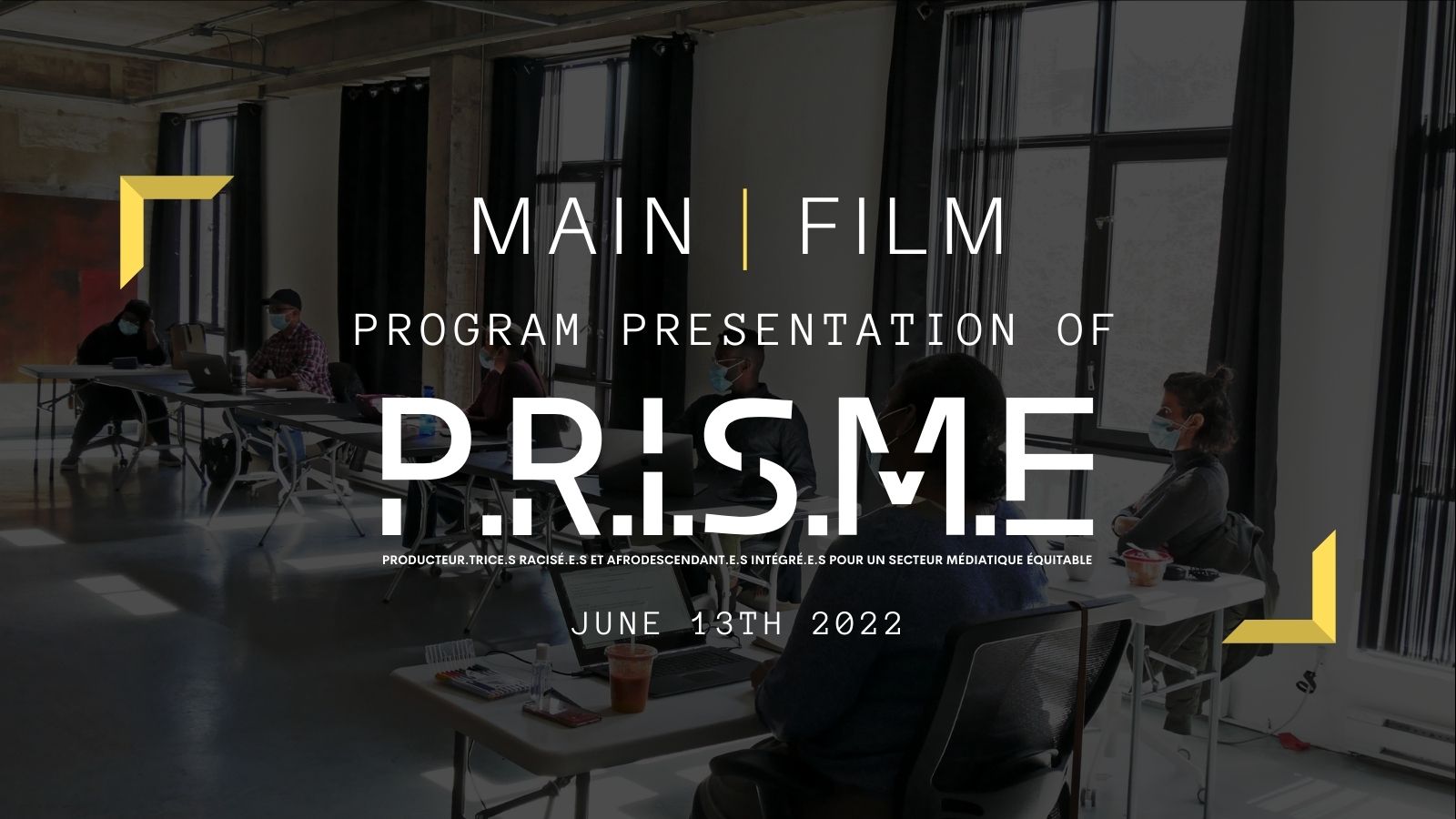 13
Jun
P.R.I.S.M.E Program Presentation | Online
Meetup, Prism - Exploratory Cinema - Spring 2022
Monday June 13, 2022
6 pm - 9 pm
Monday, June 13th from 6 p.m to 9 p.m
Guests | Malcom Odd, Sara Ben-Saud and Victoria-Catherine Chan
Moderator | Miryam Charles
Free upon registration
---
Discover the P.R.I.S.M.E. long term training during this dedicated session! Former participants of the program will present their experience, the progress of their career and give a feedback on the training and what it brought them.
Designed for producers at the beginning of their career and for more advanced directors who wish to enter the world of production, the training is aimed exclusively at Afro-descendants and racialized individuals.
It aims to be a career gas pedal and to bring to the sector an opening that is much needed. Through courses, residencies, workshops, networking and mentoring activities, the cohort gains key learnings in order to obtain new perspectives of evolution and development based on their needs.
Those interested in the training must have a project they wish to develop and produce.
You will be able to learn more about the artists supported by Main Film in film production and ask all your questions about the P.R.I.S.M.E. long-term training program in order to, perhaps, be part of the next cohort!
For any information, send an email to: services@mainfilm.qc.ca
---
Malcom Odd
Malcolm Odd is a transdisciplinary artist who fuses poetic fiction and speculative theories. He holds a B.A. in Philosophy with a specialization in Visual Arts from the University of Sherbrooke and works to decompartmentalize disciplines and narratives as a poet, filmmaker and painter based in Tio'tia:ke, Montreal. Co-founder of the independent production company INZU GROUP MEDIA, he produced, scripted and directed En ta paume (2021), a first short fiction film evoking an incredible love story between two Afrodescendants. The film was part of the official selection of Rendez-vous Québec Cinéma, Halifax Independent Film Festival, Cinefest de Lisbonne and Baltimore Black International Films, among others. He also assists as director of fictional segments of Henri Pardo's documentary Afro-Canada (2022), a docu-drama that lifts the veil on centuries of history of Afrodescendant people in Canada. He is currently an associate producer of the anthology series Festivale in pre-development with Bell Media/Crave and is co-producing two short films by emerging Afro-descendant filmmakers now in post-production. He continues his fiction work as creator-writer on Busboy, a heavy series developed with the Rogers x BSO grant, while co-writing a web series in development, this time with Tou.tv.
Sara Ben-Saud
Winner of Culture Outaouais' Emerging Artist of the Year Award (2020), Sara's artistic curiosity is nourished by her Quebec-Libyan-Tunisian origins. Her thirst to meet her roots and different cultures inspires her in the conception of her productions. Sara Ben-Saud has worked as a director and writer on the documentary series Skindigenous about indigenous tattooing traditions around the world. She has just completed an intensive training in directing at L'inis in the new mixed program – fiction and documentary with a grant from Netflix (2021). At the same time, she is shooting the documentary À toi Jeddi about her Libyan roots, produced by Nish Media and funded by SODEC and CALQ. She has just completed a short documentary, 5:1, about her family during the confinement as the producer, writer and director with the financial support of Reel Canada and Netflix, selected at the RIDM festival. Navigating between fiction and documentary, TV and film, at a young age she worked with major broadcasters such as Radio-Canada, PBS and APTN. Sara wishes to change the Quebec audiovisual landscape on the matter of diversity. The young director firmly believes that this change begins with the subjects she decides to tackle in front of the camera, but also with the team behind and in front of the camera. Representation being at the heart of her practice, she hopes that future generations will be able to recognize themselves on our screens and in this industry.
Victoria-Catherine Chan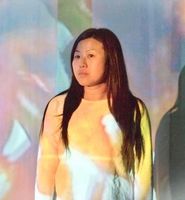 Originally from Tiohtià:ke (Montreal), a non-Kanien'kehá:ka (Mohawk) ancestral territory, and a child of the diaspora, Victoria Catherine Chan (iel/elle) is a queer artist and filmmaker who addresses "in-between" temporalities and spaces by combining film, installation, performance and sound art through intersectional and intergenerational narratives. Her work has been presented in festivals, galleries, cinemas and online platforms. Her work has been supported by the Canada Council for the Arts, CALQ, SODEC and Montréal arts interculturels. Iel holds a BFA from ZeLIG Documentary Film School in Italy and an MA in Studio Arts from Concordia University, and has also completed a Fellowship at the UnionDocs Documentary Art Center in New York. As someone who is committed to her artistic community, iel founded Peripheral Hours – a D.I.Y. art space dedicated to supporting queer racialized artists, filmmakers and curators – in 2018. She recently joined the CBC OHdio team as a digital audio producer.
Modération : Miryam Charles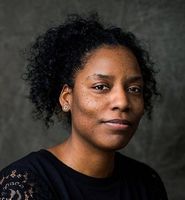 Miryam Charles is a director and producer living in Montreal. She has produced and photographed several short fiction films as well as feature films. She is also the director of several short films. Her films have been presented in various festivals in Quebec and internationally. She is currently working on her first feature documentary film This House (Talents en vue, SODEC) and is in development on a short fiction film Au crépuscule (SODEC créateurs émergents), a drama series Jou va, jou vien (Banff/Netflix Diversity of Voices + Trio Orange) as well as a feature fiction film Le marabout (La forge Québec cinéma/Netflix + Voyelles Films).