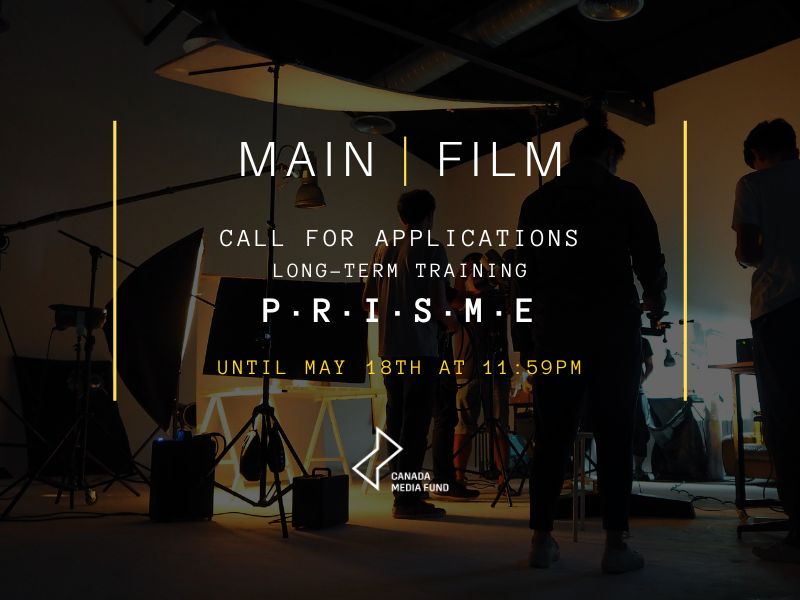 13 Apr

Call for applications: P·R·I·S·M·E
P·R·I·S·M·E PROGRAM – Cohort III
Racialized and Afro-descendant Integrated Producers for a Fair Media Sector.
LONG-TERM TRAINING
THURSDAY, JUNE 1ST – END OF OCTOBER 2023 (no activity between July 1st and September 1st 2023)
Application deadline: May 18th 2023 at 11:59pm
Cost of training for selected participants: $400*
Total training time: 90 hours (including networking activities, networking and excluding mentoring sessions)
---
For the third year in a row and thanks to the support of the Canada Media Fund as part of its Support for Industry Development Activities initiative, Main Film is offering a professional program open to African-descendant or racialized emerging producers and professional filmmakers wishing to develop a production practice.
---
PROGRAM'S DESCRIPTION
This training will allow you to :
Discover in depth the profession of producer, its roles and responsibilities
Understand in a professional way the funding requests, the administrative management (budget, contracts, unions) as well as the inherent institutional and legal obligations
You will also benefit from :
A practical application of the theoretical part through 2 days of real case studies and through your own projects
Integration into the community through networking activities
Personalized mentoring around your project over the course of a year (limited number of hours per person)
The training will take place in person in Montreal.
---
ELIGIBILITY REQUIREMENTS
The program is open to 6 people.
It is intended for independent producers at the beginning of their career and for more experienced independent directors who wish to develop a production practice.
These individuals must have a production project ready for development to be eligible and it must be a short, medium or feature-length fiction, feature-length documentary, web-series or linear fiction or documentary series. It is preferable that candidates be bilingual in French and English so that all the learning from the training can be assimilated and beneficial.
Any other Afro-descendant, racialized or Aboriginal profile deemed relevant will be considered.
---
SELECTION REQUIREMENTS
To be selected you must submit your application before May 18, 2023 at 11:59 pm.
It will include:
Covering letter showing what the training will bring to your career
CV
Supporting material (links to 1 or 2 previous works produced or realized, depending on your profile)
Project presentation file including MANDATORY:

A synopsis (1 page)
A text presenting the idea of the project and stating your point of view on the importance of its creation (1/2 page)
A text describing the impact that this project could have in today's world (10 lines maximum)
A text presenting the particular and unique contribution of the person(s) behind it (producer/director) (1/2 page)
A draft budget and production schedule
NOT REQUIRED
A script
---
APPLICATION PROCESS
Your application must be submitted through this submission form:
For any questions or additional information, please contact Irina at prisme@mainfilm.qc.ca
*In case of financial difficulties (low income, unemployed, etc.) Main Film could take care of your registration ($400) after studying your file.
---
DETAILED SCHEDULE (NOT FINAL)
The final schedule will be published soon. Courses will preferably be held in the evening and on weekdays to allow professionals to participate.
JUNE 2023:

Thursday 01/06: Welcome (≈2h)
Friday 02/06: The profession of producer (≈4h)
Tuesday 06/06: Financing Institutions – Part I (≈4h)
Wednesday 07/06: Funding Institutions – Part lI (≈4h)
Saturday 10/06: Budgets, contracts, unions and professional associations – part I and II (≈7h)
Sunday 11/06: Budget Focus
Wednesday 14/06: Institutional and legal obligations & distribution (≈4h)
Saturday 17/06 & Sunday 18/06: Practical residency – Grant application (≈2x8h)
Tuesday 20/06: The industry and pitch philosophy (≈4h)
Wednesday 21/06: Distribution and Festivals (≈3h)
Tuesday 27/06: Information Session – Financial Institutions (≈3h).
Please note: there will be no activities between July 1 and Sept.
SEPTEMBER / OCTOBER 2023:

Network training
Training, reflection and support in the creation of a network
Meetings with the various organizations representing the sector
Create and develop your production company
Practical Pitch residency
with Pitch Competition ($4000 in scholarships)
Networking activities
Broadcasters and professional producers