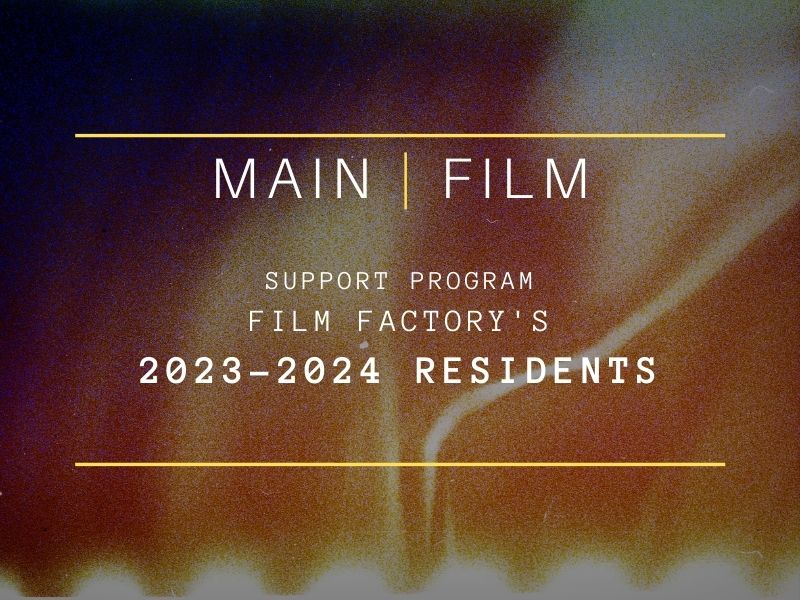 13 Jul

Film Factory's 2023-2024 residents

A first this year: the Film Factory is multiplying its support by welcoming 5 artists through 3 artistic residencies and 1 special grant!
Over the course of a year, these artists will have the opportunity to take new artistic directions in the development, exploration and experimentation of their practices and projects.

Find out more about their profiles and projects submitted to Manufactures de films 2023-2024 without further ado!
---
Elian Mikkola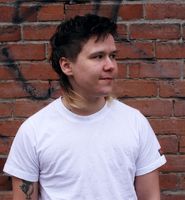 Elian Mikkola is a Finnish Moving Image Artist (of Karelian descent), and a white settler currently based between Treaty 4, Regina, and Montréal (Tiohtià:ke), Canada. Originally from Turku, Finland, Mikkola holds a BA in Journalism from Tampere University. They completed their MFA in Media Production in 2019 at the University of Regina.
Mikkola works closely with both analog and digital images and explores themes such as memory, spatial dependences and queer belonging. They've done extensive research in the field of eco-processed film since 2017. Mikkola's work has been showcased in several film festivals in Canada and internationally. Their debut film SAARI (2016) was selected to TIFF's Canada's Top Ten Film Festival student program in 2017 and their latest two films premiered at International Film Festival Rotterdam 2020 and Hong Kong International Film Festival in 2021.
Residency's project
My Film Factory residency at Main Film is dedicated to my analogue research with innovative colour production. I hope to test different colour toning possibilities, and research the cyanotype method further in the context of 16mm and 35mm film.
I am also curious about combining some of the other historical techniques such as hand-colouring and Kinemacolour together with modern technologies including, but not limited to, laser cutters and printers.I plan to combine some techniques inspired by the historical Kinemacolour process together with digital colour manipulations and possibilities to produce colour artificially in post-production.
Being able to have this support for my project and research is very significant because my goal is to keep using the new sustainable methods as a part of my core practice and produce analogue moving image work in colour in the future. I am excited to begin my Film Factory cycle and I hope to share all the newly discovered alternative colouring techniques with other filmmakers and artists at the end of my residency period.
---
Félix Lamarche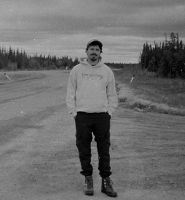 Félix Lamarche is a Montreal-based independent filmmaker who explores the possibilities of documentary practice. Les terres lointaines, his first self-produced feature, was released in 2017 and won the Pierre-et-Yolande-Perrault award for best first feature documentary that same year. Since then, he has directed and produced a series of short films, including La frontière (2017), Terres fantômes (2019) and Un fleuve l'hiver (2020). His most recent film, Le chant de la nuit (2022), was recently presented in international competition at Dok Leipzig in Germany, then at RIDM in Montreal. In his practice, he is interested in both traditional and experimental film language. He is currently working on a second feature-length documentary.
Laura Kassar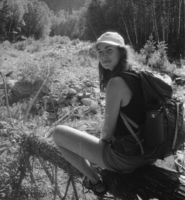 Laura Kassar is an interdisciplinary researcher. She is currently working on building bridges between theoretical activity and material practices, exploring in particular the resonances between sculptural and interpretive work. Inspired by the resistance of materials to the efforts of thought, she develops her reflections as a learner in metal work (MIG and TIG welding) in parallel with her doctoral research. She is also a lecturer at the Université de Montréal for the Minor in Feminist, Gender and Sexuality Studies.
Residency's project – MATTER OF TIME
Matter of Time is a short film at the crossroads of experimental film and essay, investigating the intriguing white clay stratas of Saskatchewan's Eastend region. Co-directed by Félix Lamarche and Laura Kassar with paleontologists and poet-artists, the project explores how clay and other stratas of sediment in the canyons of this region have helped shape a multiplicity of local practices and interactions with the land, highlighting the relationship between the geological matter of the place and human beings.
---
Ralitsa Doncheva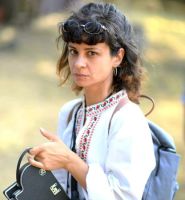 Ralitsa Doncheva is a Bulgarian artist – filmmaker based in Tio'tia:ke/ Montréal. Drawing on experimental analogue film traditions and intuitive, poetic approaches, her Balkan heritage and mythology, her films evoke shimmering worlds on the verge of disappearance. Between 2013-2018, Ralitsa created a series of short films and writings using archives and representations from Eastern Europe. The final project (almost) impossible worlds was exhibited at the Dazibao gallery and later presented as a performative lecture during the 2022 Experimental Cinema Symposium at the Cinémathèque Québécoise. Her films and video installations have screened globally in festivals, galleries and micro-cinemas. In 2016 she received The Eileen Maitland Award at the 54th Ann Arbor Film Festival for her film, Baba Dana Talks To The Wolves. Her recent project Desert Islands, shot with her father, screened at the Festival de Nouveau Cinema and at the Images Film Festival in Toronto among other festivals. Ralitsa is ardently involved in local film and artistic communities, where she contributes as a director and editor. Her recent collaborations have been shown in galleries and museums such as the Musée d'Art Contemporain de Montréal, the Foreman Art Gallery (Sherbrooke), Musée d'art de Joliette and most recently at the Canadian Centre for Architecture.
Residency's project – FLY FLY SADNESS
Fly Fly Sadness is an impressionistic 16mm film about the connections between mythology, collective memory, folklore dance and my Bulgarian heritage. Working with artisanal, tactile and poetic approaches, the project reflects on the various roles and meanings rituals and "the sacred" play in contemporary society.
---
Geneviève B. Genest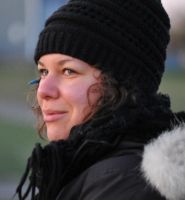 Invested in a film practice since 2008, Geneviève B. Genest creates short films and video installations. Her artistic career began in the visual arts and dance, and has since expanded to include cinema and video art. With expertise as an assistant director on feature-length fiction films, she turned to a multidisciplinary approach when she obtained a certificate in digital arts from the Université du Québec à Chicoutimi in 2022. Her works appeal to the viewer's physical and sensory engagement, experienced either through interactivity or transmitted by the videographic image, which becomes filmic material (16 mm film) and is worked organically. Her most recent work, Que nos corps traversent (QNCT), has been presented at festivals in Turkey, Morocco, Greece, France and the United States. Geneviève currently lives and works in Saguenay, Quebec.
Exploration special support – VIDÉOPOSOLOGIE
Vidéoposologie's intention is to ensure "visual hygiene" and reflect on the impact of images on the brain, in order to reverse the media power of dehumanizing images. This exploration will focus on the creation of generative images, transferred, reproduced and altered on 16mm film, which will then compose two videographic palimpsests. As part of an expanded cinema approach, this diptych will be presented as an installation, allowing viewers to be enveloped by this video "presence".